4 States Are Ending Mask Mandates in Schools — What to Know
In the coming months, masks are coming off in the schools in these 4 states.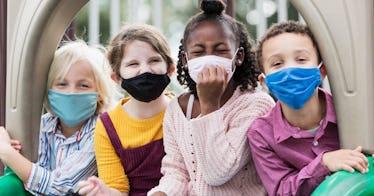 kali9 / Getty Images
At least four states are set to roll back school mask mandates in the coming months: New Jersey, Connecticut, Delaware, and Oregon governors have all announced concrete end-dates for in-school mask mandates, citing a decrease in COVID numbers and hospitalizations.
The decisions are being made at a time when the FDA could authorize a COVID vaccine for kids under 5 in a matter of weeks — leaving only 0- to 6-months-old unable to get a COVID vaccine.
If the FDA authorizes the vaccine for the youngest kids, it will be almost a month and a half before they can be fully vaccinated. That means that in some of these states rolling back school mask mandates, kids won't be fully vaccinated by the time they're lifted.
Why Are States Rolling Back Mandates and When?
"We are not — and I've said this many times — going to manage COVID to zero," said New Jersey Governor Phil Murphy when announcing the rollback of the school mask mandates. "We have to learn how to live with COVID as we move from a pandemic to an endemic phase of this virus." The New Jersey mandate will expire on March 7.
State officials in Delaware will lift school mask mandates on March 31, Governor John Carney announced on Monday. "We're in a much better place than we were several weeks ago in the middle of the Omicron surge of COVID-19 cases and hospitalizations. I want to be clear about this point – COVID is still circulating in our communities," Carney told constituents. "…For all the parents out there – the best way to keep your child in school learning, and to prevent them from getting sick, is to get them vaccinated. It's that simple."
Although lawmakers in Oregon recently signed an emergency indoor mask mandate, officials say school mask mandates in Oregon will be lifted at the end of March. Officials based their decision on health data, suggesting that COVID cases will be down enough to allow for a bit of leniency in their masking requirements by the end of the month.
"The evidence from Oregon and around the country is clear: masks save lives by slowing the spread of COVID-19," said Oregon health officer and state epidemiologist Dean Sidelinger, M.D. "We should see COVID-19 hospitalizations drop by the end of March because so many Oregonians are wearing masks and taking other steps to protect themselves and each other, such as getting a booster shot or vaccinating their children. At that point, it will be safer to lift mask requirements."
State officials in Connecticut plan to end in-school mask requirements on February 28. Governor Ned Lamont effectively ceded control of mask rules to local and school authorities, saying, "Now is the time for us to say, the statewide mask mandate is no longer at our level," Governor Lamont of Connecticut said. "Each and every mayor, each and every superintendent can make that call themselves."
COVID-19 Fatigue Is At Play
The changes in mask requirements come at a time when COVID fatigue is reaching a peak for many people. With changing guidelines on quarantine and isolation protocols, lack of access to effective masks, and the never-ending cycle of variants, it seems as though many people are ready to move on to the next phase of COVID-times.
Federal health experts agree that constant vigilance is necessary to prevent another dangerous surge. White House press secretary Jenn Psaki told reporters Monday that federal officials still recommend masks in schools but have always left the decision to local school boards.
"Our advice to every school district is to abide by public health guidelines," said Psaki. "It continues to be, at this point, that the CDC is advising that masks can delay, reduce transmission." She added, "It's always been up to school districts."
Federal health officers and the CDC still recommend indoor masking for unvaccinated people. During a COVID-19 Task Force briefing last week, Surgeon General, Admiral Vivek Murthy, concurred with CDC recommendations. "All of us should wear high-quality masks when in public indoor settings. This is how we can continue to create a wall of protection around our children under five [the age at which vaccination is approved] as we look to safeguard their health."
But the Efficacy of Mask Mandates in Schools Have Limited Evidence
Not all health experts agree that wearing masks in schools reduces the transmission of COVID-19. While some say that masking schools are an important and effective line of defense against COVID-19, other studies in the United States and abroad have found little effect on the number of caseloads.
And masks are largely made for adults, not children, which means they don't fit as well on kids' faces, according to the New York Times. Kids also spend all sorts of time with their masks off at school — while eating, for example, which means there's still plenty of opportunity for transmission in schools even when mask mandates are in place.
The benefits of masking at schools are being considered at a time when cases are plummeting. When cases rise again, it may very well be the case that these states and many others return to statewide mask mandates, including for schools.