Some Schools Have Had to Delay Opening Due to School Bus Driver Shortages
Where schools haven't been delayed, routes have been cut, and delays in bus routes are the norm.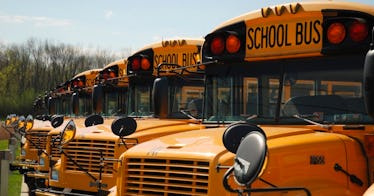 Flickr/michaeltk
As schools have reopened across the country or are set to after Labor Day Weekend, some districts have been faced with the prospect of pushing back their school reopening plan, cutting bus routes, or paying parents to drive their children to school due to school bus driver staffing shortages.
The industry is seeing a massive, and unprecedented, shortage of workers who take kids to and from school nationwide — and it's having major effects on getting the most vulnerable kids to and from the classroom.
Per Teen Vogue's reporting on the issue, school bus driver shortages have been reported nationwide. One survey from School Bus Fleet cited in the publication's reporting found that half of the respondents said their bus driver shortage was "severe" or "desperate" while only 5 percent of people who responded didn't report a shortage at all.
More than half of school districts with anywhere between 25,000 and 100,000 students said that "they believed it could take three months or more to resume normal transportation operations." Local news stories abound with school bus route delays and school reopening delays that will be expected as schools open their doors.
The reason for the school bus driver shortage is not that surprising. Some 160 members of the Amalgamated Transit Union have died of COVID-19, and being a school bus driver is not a highly lucrative position nor is it one with guaranteed affordable access to health care. Per Ziprecruiter, the average national pay of a school bus driver is $651/a week, or $2,600 a month. But this doesn't take into account that in many places, it's a part-time job, and many workers only get paid for the hours they work. So it is unsurprising that some school bus drivers moved on when schools shuttered during the COVID-19 school years for greener pastures. And, as some union presidents have pointed out, more drivers are retiring than are being hired, leading to a major problem.
Add that to the fact that many school buses are operating at 50 percent capacity due to social distancing problems. So more drivers are needed than normal, fewer drivers than ever are working, and school districts are struggling to fill the gap.
Some school districts have had to push back their reopening plans because of it. Pittsburgh Public Schools had to delay their reopening by two weeks; in Georgia, Savannah-Chatham County Public Schools have cut bus routes due to a driver shortage of 114 workers, other districts are offering incentives to new drivers up to several thousand dollars in order to deal with the shortage problem.
At Montgomery County Public Schools, experiencing a shortage of 100 drivers, parents reported massive delays to getting their kids to school as class opened — one mom said her son's bus was 42 minutes late on Monday morning. In Hudson Valley, the school district reported that 500 students might just not be able to get a ride. The stories go on and on and on.
Some districts are directly paying parents to get their kids to and from school — a short-term problem to a long-term solution. New York Times reports that a charter school in Wilmington, Delaware is paying families $700 per kid to drive their kids to and from school, and Philadelphia will provide a monthly payment of $150 to parents who can get their kids to and from school. While this is nice, it doesn't solve the issue of when parents work, and when they can leave work to get their kids.
Meanwhile, bus drivers are needed. Millions of students take the bus to and from school, and the majority of these kids are low-income. Bus drivers provide a necessary service for parents and kids — they deserve pay and working conditions that make the work worthwhile. In the meantime, parents, schools, and school bus drivers are feeling the crunch.
This article was originally published on