Santa's Workshop Has A Live Stream. Show Your Kids
Santa is working away at getting kids their Christmas presents this year — and this live stream proves it.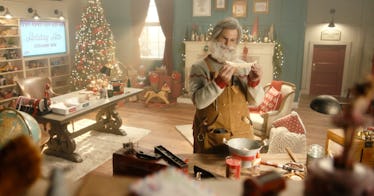 Yankee Candle Company
More likely than not, you probably haven't taken your kids to see Santa at the mall or at a Christmas fair this year if that's the holiday you celebrate, due to the pandemic. After all, you wouldn't want to be at the epicenter of a Santa-related outbreak like the one in Georgia. But missing out on visiting Santa for some kids is a real disruption of tradition and the subsequent holiday lore.
Where visits to Santa are disallowed, many brands and companies have come up with Santa-visiting alternatives in order to spread the Christmas cheer. That's why Yankee Candle has launched a live stream of "Santa's Workshop" — so that your kids can see what Santa is up to without having to go ask him in person. Plus, if you're tired of watching Christmas movies over and over, this does represent a change of pace.
The live stream is pretty simple. More than the workshop, it looks like Santa's home office, with a fireplace, a Christmas tree, a stately desk and leather chair with papers, and, right at the front of the camera, a work station for toys.
Santa bustles in and out occasionally, sometimes turning on the TV to watch "breaking news" or to sit down and read some work papers and catch up on all his Santa business. (We assume that there is a naughty and nice list on his desk somewhere… if only we could see it.)
Boxes of ribbons, a globe, wrapped toys, and a short door that says "employees only" (this, we imagine, is for elves) all adorn his workshop. And while it's not really a live stream, but a long video on a loop, it might be fun to show your kids in case they're concerned Santa won't come to visit them because they didn't get to go tell him what they wanted for Christmas this year. Santa, it seems, is still hard at work — and he's ready to go give out toys (as soon as he watches the news.)
You can watch the live-stream here — and there's even a page of highlights of the live-stream including Santa working on a toy turtle, him learning a TikTok dance (yeah), him reading letters, and more, so that the entertainment doesn't begin and end at waiting for Santa to walk into his office.
This article was originally published on