Why There's a Huge Santa Shortage This Year
Demand has skyrocketed for Santas while the entertainment supply has gone down.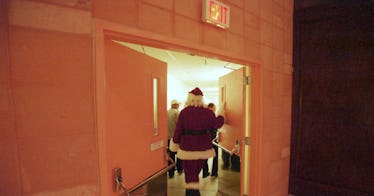 We've had a lot of strange shortages this year, but this may just be the most surprising one. Apparently, there's a Santa shortage this year and it's impacted the whole country. The reason is a mix of demand, which has gone up by a massive percentage, while supply of available Santa entertainers has dropped. Here's what you need to know.
According to Insider, HireSanta.com founder Mitch Allen has noticed there's been a major 121 percent increase in people reaching out to hire Santa to attend an even this year compared to the past two years. This is likely tied into the global pandemic where gatherings are now starting up again thanks to vaccines.
With the large increase in people looking to book a Santa, there are currently 1,275 full-season Santa jobs – like the ones who work at the mall – and more than 2,000 hourly Santa gigs that haven't been filled yet.
While being in demand is a great thing for Santa entertainers, the problem is a supply and demand issue. While demand has gone up, available Santa entertainers has dropped by about 10 percent. "Some have died from COVID-19," Insider reports, "and many aren't doing events because of the pandemic. Many have also retired from the Santa game."
Tim Connaghan, a popular Santa entertainer, told The Washington Post that when he spoke to fellow Santas, 18 percent told him that they're taking this year off, which the publication attributes to the pandemic for the most part.
"I've had all my shots and all my vaccinations, and I watch myself very closely," Tim told The Washington Post. "But I want to remain cautious, you know, and I'm also encouraging other Santas to do the same."
The Santas who are working, like Doug Eberhardt, a Santa in Charlotte, North Carolina, are completely booked up for the season. Doug told The Washington Post that he currently has 92 gigs booked until Christmas, which is a big increase from his typical years.
Complicating the Santa entertainer shortage is a supply chain issue in getting new Santa costumes. Insider reports that they've been impacted by the supply chain shortages when ordering products from overseas.
So, parents, if you're looking to hire a Santa to make your kid's holiday special or had hopes of that photo op with the mall Santa, it might be challenging this year.