Can't See Santa Because of COVID? Call Him — He Got A Phone
Kids can leave Santa a voicemail. It's not the same, but it's not nothing.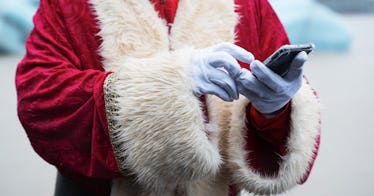 COVID-19 is changing just about everything when it comes to the holidays. Halloween traditions have been upended after the CDC called trick-or-treating a high-risk activity; Thanksgiving might be cancelled because the CDC says it's unsafe to engage in small-gatherings, which have been driving the skyrocketing number of COVID-19 infections across the country, and it's hard to imagine that Christmas, which is conveniently nestled right in the midst of flu season, would be any different.
One tradition that will most likely be cancelled without a second thought — although probably amid lots of sad tears — is visiting Santa at the local mall or the Christmas fair. After all, hundreds of kids sitting on Santa's lap and leaning in close to breathe in the same space as a Santa who has come into contact with hundreds of kids, and then discuss what they want for Christmas seems like a super-spreader event manufactured by the guys at COVID headquarters. For that reason, Santa-mall visits are probably cancelled, and for good reason.But that doesn't mean that our kids can't visit Santa, at least in some way, during this COVID-infected-Christmas season. FreeConferenceCall.com, the service that you've probably used if you're a working parent at any point in your career, has come through clutch by connecting little kids with Santa's Hotline, an international calling service where kids can call Santa and leave a message for Santa Claus. While it's not the same as interacting with the big white-bearded holiday symbol, kids can leave their Christmas list with him on the phone by calling 1-605-303-4000 and hear Santa greet them with holiday cheer. In a world as stressful, and upended, like ours, it's good to know that there is at least some semblance of our normal traditions going on across the world.