Sam Claflin Needed To Figure Out Who He Was As A Dad After Divorce
"I think I needed to work out a few kinks in my own life."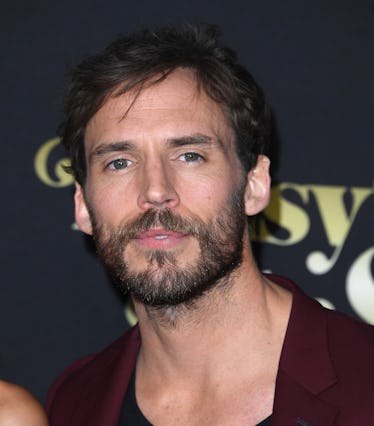 Steve Granitz/FilmMagic/Getty Images
There are many times when we need to adjust our plans, and for many, that happens at the end of a relationship. For movie star Sam Claflin, his divorce meant he had to figure out fatherhood all over again and how that would look co-parenting his two children with his ex-wife. So, he took the time to do just that.
In an interview with Variety, the Hunger Games star talked about his tough year while adjusting to some big life changes, including acting in a new TV series, Daisy Jones And The Six, and the end of his marriage. In 2019, Claflin and his wife of six years, Laura Haddock, separated, and the two promised to "move forward with nothing but love, friendship and a deep respect for one another." Still, that meant Claflin had to adjust and re-learn how to support his two children, Pip and Margot, who were 4- and 2-years-old at the time, and that wasn't always easy.
"I was in a really bad place," he admitted to Variety. But after getting back to work, finding a routine, and giving himself time, Claflin was able to land in a better place, professionally, and as a dad.
"I think I needed to work out a few kinks in my own life, to figure out who I was as this dad on my own in a house outnumbered by two toddlers," he shared.
Now his kids are 7- and 5-years-old, and Claflin's new TV show might have been a key part in his evolution as a dad. Claflin said he's been able to learn more about himself through Billy, the character he plays in Daisy Jones & the Six.
"I was a husband. I've been through marriage and the struggle of juggling work, family life, home, and being grounded," he explained. "The obstacles he has to overcome, like becoming a dad and the fear or anxiety that brings, feeling like you might fail…His fear of failure is something that I can massively relate to — needing to feel approval and the fear of abandonment. I've been through this struggle. And I'm sure the struggle will continue."
Claflin isn't alone in needing to adjust to fatherhood when learning to be a positive co-parent and juggling solo parenting and work. For parents in similar situations, he leads with good example by taking time to adjust to and navigate big changes in his family.