ABC's Of Safe Infant Sleep
Dads Aren't Doing Enough To Promote Safe Infant Sleep
A new study found that only 16% of dads report following the ABCs of safe infant sleep.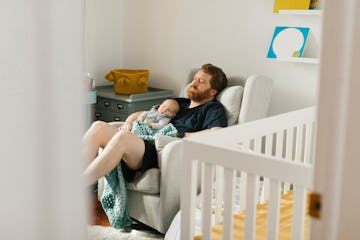 Tetra Images/Tetra images/Getty Images
Supportive fathers are vital, especially in the early days, but new research published this month in the journal Pediatrics shows that dads may not be doing everything they can to ensure their newborns and infants are sleeping safely.
A research team from Northwestern University surveyed 250 fathers who had welcomed babies in the previous two to six months regarding infant feeding and sleep. They found that in families where the father supported breastfeeding, which is included as a best practice in the American Academy of Pediatrics' (AAP) safe sleep guidelines, 95% reported breastfeeding after birth, and 78% reported breastfeeding at eight weeks postpartum. In families where dads were unsupportive or had no opinion, those numbers dropped to 69% and 33%, respectively.
The research team also found that although 99% of dads reported putting their babies to sleep, only 16% reported following all three of the AAP's safe sleep guidelines — placing babies to sleep on their backs, using a firm mattress, and removing soft bedding from the crib — which were established to help prevent sleep-related infant deaths and sudden infant death syndrome (SIDS).
"Our findings underscore that new fathers are a critical audience to promote breastfeeding and safe infant sleep," said lead study author Dr. John James Parker, professor of pediatrics at Northwestern University Feinberg School of Medicine and practicing pediatrician at Lurie Children's.
"Many families do not gain the health benefits from breastfeeding because they are not provided the support to breastfeed successfully. Fathers need to be directly engaged in breastfeeding discussions, and providers need to describe the important role fathers play in breastfeeding success."
The team also found evidence of a lack of education regarding safe sleeping practices across racial lines. Black fathers were less likely than fathers of other ethnicities to follow safe sleep guidelines. Previous research has shown that incidences of SIDS are twice as common among Black families than among other ethnicities, highlighting a need for increased education, resources, and support within the historically underserved Black community.
"Fathers need to receive counseling on all the safe sleep practices for their infants," Parker said in a statement for the study. "To reduce racial disparities in sudden unexpected infant death, we need tailored strategies to increase safe infant sleep practices in the Black community, including public campaigns to increase awareness and home visiting programs. These interventions must involve both parents to be most effective."
The AAP updated its safe sleep guidelines in 2022. The new guidelines, which are intended to provide the safest possible sleep environment for infants up to one year of age, include the following:
Placing babies to sleep on their backs
Using a firm mattress, not an inclined sleeper or car seat, for routine sleep
Removing all bedding and crib bumpers (which were outlawed last year)
Sharing a room but not a bed with adult caregivers
Avoiding hats or head coverings that could lead to overheating
Breastfeeding
Using a pacifier