Ryan Reynolds Is Putting His Career On Hold For 1 Perfect Reason
He's stepping away at least until the end of summer 2022.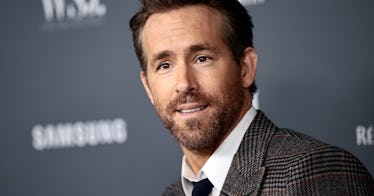 GETTY
There are few actors who are doing more right now than Ryan Reynolds. He's been in movie after movie for what feels like years and now, he's taking a break. Hot off the shooting schedule for his latest film, Ryan shared that he's taking a sabbatical from making movies.
Since 2018, Ryan has pretty much worked non-stop. From Deadpool 2 to Pokémon Detective Pikachu, The Croods: A New Age, Free Guy, and Spirited, he hasn't slowed down. On top of all those films, Ryan is also managing the schedule of overseeing several business ventures, including stakes in Mint Mobile, Aviation Gin, Maximum Effort Marketing, and Wrexham AFC.
Oh, and he's also a husband to Blake Lively, and father to their three little girls. And in an interview with The Hollywood Reporter, Ryan said his reason for a sabbatical from movie-making is to be able to spend more time with his family.
On October 16, 2021, Ryan celebrated wrapping up work on his upcoming movie Spirited. He took to social media to thank the cast and crew. "Not sure I'd have been ready to say yes to a film this challenging even three years ago," he wrote. "Singing, dancing and playing in the sandbox with Will Ferrell made a whole lotta dreams come true. And this is my second film with the great @octaviaspencer."
Included in the post were some behind-the-scenes pictures of the Apple TV+ Christmas-themed movie. Ryan also revealed that he was going to take some time away from work, too.
"Perfect time for a little sabbatical from movie making," Ryan shared. "I'm gonna miss every second working with this obscenely gifted group of creators and artists. These days, kindness matters as much as talent. I've been lucky to work with folks who are flush with both."
"I'm just trying to create a little bit more space for my family [wife Blake Lively and their three daughters] and time with them," Ryan said at the Wall Street Journal Magazine Innovator Awards. "You know, you don't really get that time back."
And he's right. We often talk about needing to balance home life with work life. As an actor, being away on a set for months at a time, it's not easy to juggle the two. For Ryan, he's planning to focus on his family for the next few months.
"So, I'll probably be away from film, or at least shooting films, till the end of the summer," he continued. "It just provides me an opportunity to be home." why