Ryan Reynolds' Kids Have Big Feelings About Him Kissing Anyone Besides Blake Lively
A young boy asked Ryan a question that really put him on the spot.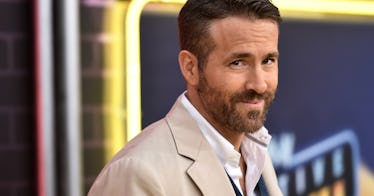 Steven Ferdman/Getty Images
It has to be strange to have a mega-famous parent. And even weirder when both parents are. We imagine it would be hard to get into a movie's storyline if you can't see past the fact that Deadpool is your dad. But that's the reality for Ryan Reynold's three kids. The actor recently shared how his kids feel when he kisses a co-star in a movie, and it feels incredibly true to life.
Ryan is dad to three kids, James, 7, Inez, 5, and Betty, 2, who he shares with his wife of 10 years, Blake Lively. According to People, Ryan recently attended a Q&A session while promoting his new Netflix film The Adam Project. During the session, he was asked if kissing his co-star was "real" and Ryan had a hilarious answer for it.
First, Ryan joked saying, "I didn't mean it" before asking if the kid who answered the question was his wife in disguise. Switching gears to talk semi-seriously, Ryan then elaborated saying it's a hard question and it's something he struggles with when it comes to his kids.
"This is the thing, I don't know how to explain this to my own kids," he admitted. "If they watch this, and they're like, 'Daddy! What are you doing?' Like, it's exactly the tactic I'd use on them — not anger, but just disappointment."
In November, Ryan said he's planning to take some time off from working after wrapping up the projects he currently had in the works. He really wants to carve out some time to spend with his kids while they're still young.
"The main point is that I'm there for my kids in the morning and night and I'm getting up with them and I'm putting them to bed at night," her previously said. "Those are things that I think they should be able to take for granted."
He continued, "You can't say you're doing that without recognizing the obscene privilege it is to be able to do that. And part of it is to allow Blake to do some of the things that she wants to do and get to play in her own sandbox. And the other part is purely selfish. It's just that I don't want to miss this time. You don't get this time back. And my kids are in school now, so they can't travel with me to location. I have to be there. So it's important and I'm super lucky I get to do it."