Super-G Skier Cements Olympic Dynasty 50 Years After His Mom Took Gold
Skiing started as a way for the family to spend time together and morphed into an incredible family legacy.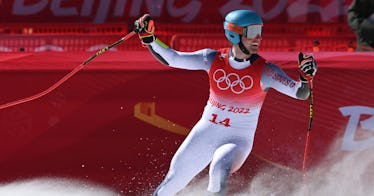 FABRICE COFFRINI/AFP via Getty Images
There are some people who believe athletic ability is all about hard work while others say it's all genetic. One family is proving both to be true in the Olympics this year. U.S. skier Ryan Cochran-Siegle is competing at the Beijing Olympics this year and he recently hit a milestone achievement very similar to the one his mom accomplished 50 years ago.
Ryan was beaming after winning the silver medal for his incredible run at the super-G skiing event. One of the first people he called after hitting the milestone was his mom, Barbara Ann Cochran who knows the adrenaline that pumps after winning an Olympic medal. Fifty years earlier, she, too, took home a medal for the US – a gold – at the women's slalom at the 1972 Winter Olympics in Sapporo, Japan.
Ryan called her via FaceTime to share the news. "I couldn't hold it together," Ryan told TODAY about calling his family. "I was pretty emotional, too. I think I just wanted to share that moment with them, and it was cool. There weren't very many words coming out of my mouth that I remember. Just so happy and elated that we were all teary-eyed."
And for Barbara, she was over the moon, staying up late to watch his run on TV. "I was so excited, I was just so proud," she said, talking about her feelings after Ryan won. "I was crying, it was just unbelievable. Congratulations, I'm just so proud Ryan, so proud of you."
Ryan's win comes almost exactly 50 years after Barbara won her medal. And with his win, Ryan joins the tradition in his family which is full of Olympic skiers. According to NBC Olympics, Barbara's three siblings, Lindy, Bob, and Marilyn, have also competed in the Winter Olympics for skiing. Ryan's cousin, Jimmy Cochran, competed in the 2006 and 2010 Olympics, too.
Barbara previously shared that skiing has always been a part of her life – and Ryan's too. In an interview with PBS, Barbara explained, "the truth is, I don't ever remember not being able to ski. Sports was a big part of our family. Out of all the sports that we did, I think skiing was the most special partly because it was something that all of us could do together."
Genetics, a love of the sport, or a mixture of both, it's clear this family takes skiing very seriously. Ryan still has another chance to take home another medal, too. He's slated to compete on February 13 in the men's giant slalom. If you're still not sure how to stream this year's Olympics, here's what to know.