Roy Wood Jr. Interviewed by His Toddler: Are You a Good Dad?
The question every dad is asking themselves.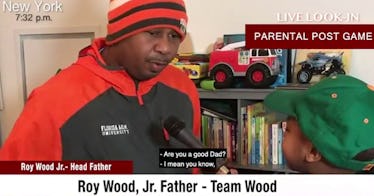 Roy Wood Jr., the storied stand-up comedian and correspondent for The Daily Show With Trevor Noah (now airing remote segments) is stuck at home like the rest of us. He's worried about the disenfranchised at this time, but not so worried about his son.
And like so many parents with a toddler at home, he's having difficulty working. "I need a different set of psychological circumstances to create satire." His solution? Recruiting his son to help him with his work. So he handed his son the mic and his three-year-old spun pure comedy gold. Here's the Instagram video, plus, a partial transcript of what went down.
Q: Are you a good dad?
A: I mean, you know, we're in unprecedented times right now and I think that and I really think that fatherhood is a moving target and don't think it's to say if you're a good dad or a bad dad. The best you can be is to try to be a good father every day. This quarantine is stressing everybody. You know, you're spending more time with your kidsI'm lucky because all I got is a three-year-old… you just give him got chocolate milk and graham crackers and you're pretty much in the game for most of the day. Just, look at the tape and see what you can do tomorrow to be a better parent.
Q: What's your favorite color?
A: My favorite color?