ICYMI: Pro-Golfer Hits His Dad With Shot At the Masters
Rory McIlroy didn't realize it was his dad until after he hit him.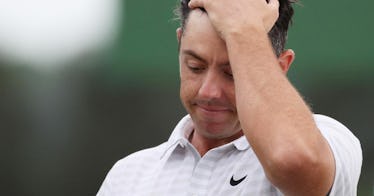 Getty
When Rory McIlroy was on the no. 7 fairway during the first round of last week's Masters, he picked out a man standing near the green as the perfect target for his second shot. McIlroy's aim turned out to be too good, as he ended up hitting the man, who he then discovered was his dad. You just can't make this stuff up.
Rory's dad Gerry was cheering his son on when he found himself being pelted by a golf ball hit by Rory. As Rory approached the ball, he discovered that the man he hit was none other than his dear old man.
The 31-year-old later confirmed that his dad did not suffer any major injuries as a result of being nailed by his son's swing, while also jokingly confirming that he was not trying to hit his dad on purpose. Golfers will often spot people in crowds as "targets" to give them a spot to focus on, as it is nearly impossible to hit the ball exactly where you aim it. Except in this case, though Rory said his dad was okay.
"In fairness, it was where I was trying to turn it off," Rory said. "It was a perfect shot — it was dead straight. I think he was OK. He didn't limp away, he walked away pretty swiftly."
Rory even joked about the incident when he was asked about it after he finished his round.
"I think he just needs to go and put some ice on," Rory quipped. "Maybe I'll autograph a bag of frozen peas for him."
Unfortunately, hitting his dad with a golf ball turned out to be the highlight of the Masters for Rory. The Irish golfer had not missed a cut at Augusta in over a decade but ended up getting cut after a disappointing performance, as he finished six-over-par and will need to wait another year to attempt to complete his career Grand Slam.