Roblox "Condo" Strip Clubs Still Populating Platform — What to Know
Roblox reiterates that they remove the rooms within minutes or hours of them going live. Here's what parents need to know.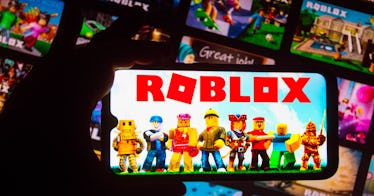 Rafael Henrique/SOPA Images/LightRocket / Getty Images
Any parent on this side of Earth knows what Roblox is. The uber-popular, digital platform game is massively popular among kids — who comprise a massive component of its user base — and even though it was already popular well before the pandemic, kids being stuck at home certainly helped its popularity.
Roblox's monumental success led to it going public recently, but when it went public, concerns arose about how safe the game really is for kids. And recent reporting has highlighted continued problems with inappropriate content on the platform. Here's what parents need to know about the problem, how worried they should be, how Roblox is responding, and what they can do to keep their kids safe online.
What's Going on With Roblox?
Two-thirds of all kids in the United States between the ages of 9 and 12 play on Roblox, which was founded in 2004. Of the 30 million players on the platform, over half of them are under 13. Inappropriate content on the platform could reach millions of kids — which is why the persistence of the "condos" is a problem.
Roblox isn't like other video games; instead, it's more like a platform where players can use the platform developer tools and make their worlds and interact with others through avatars. The platform boomed during the pandemic when kids and teens had "parties" and "playdates" with their peers as a way to build a virtual community.
But unfortunately, there's an issue within the user-generated game platform with the design of "sex games," which is commonly referred to as "condos" on the platform.
These condos resemble strip clubs where avatars not only talk about sex but simulate it as well through their avatars. Rolling Stone first reported this issue six months ago, and now, the BBC reports these condos are still on the platform — despite the company's action and strict community guidelines as well as moderators.
How big of a concern should these R-rated spaces on Roblox be for parents?
First things first: These sex games go against the platform's terms of services. The platform has very clear community standards, meaning these condos are certainly not condoned on the platform, and Roblox says that they remove them as soon as they see them.
Roblox told Fatherly in a statement that the company takes "firm and swift action to remove them from the platform, using a combination of automated machine learning technology and manual intervention by our expert team of moderators." As a result, "typically the games are removed within minutes."
So how big of a concern should these condos be for parents? The BBC's report says stumbling upon these R-rated condos isn't something that would be likely to happen, which Roblox echoed in a statement. "These games are very rare and not easy to find," Roblox said, "so someone would not just stumble into them."
While it's reassuring to parents that these condos aren't likely something their kids would come across unless they're actively looking for them, with such a large community on Roblox, and a mix of kids and adults who can all interact with each other, it's understandable that parents are worried.
What is Roblox doing to keep kids safe?
In a statement to Fatherly, Roblox reiterated that they take these concerns seriously.
"We work tirelessly to maintain a platform that is safe, civil, and welcoming for all. We have zero-tolerance for sexual content or behavior of any kind, and we take swift action against anyone found to be acting in breach of our Community Standards," Roblox said.
Roblox states that they conduct safety reviews of every image, video, and audio file uploaded to Roblox, that Roblox users can easily block others when they feel unsafe, and parents can block the chat function entirely with the Parental Control settings on the site.
"We actively encourage users to report any content or behavior that may make them feel uncomfortable using our Report Abuse feature, with a dedicated team who act on those reports. We also have specific systems and features to protect younger members of the Roblox community, including stricter chat filters applied to children under the age of 13, and a suite of Parental Control tools that can be used to restrict who children interact with and which experiences they can access."
What can parents do to keep kids safe while playing Roblox?
It's important to note that no space on the internet is 100% safe for kids. The best parental controls are constant, honest communication with your kids and, often, using the internet with them.
Yes, it would be nice if our kids could have a space to hang out digitally that we didn't need to oversee. But like anything online, the potential for exposure to inappropriate content — or exposure to speaking with random adults — is an inherent risk we can't ignore.
Kids should always know that they should never share any of their personal information with someone they meet online — and that if there's something they want to share, they need to get your permission first.
No online platform for kids is ever 100 percent safe, which is a reality for any part of the internet. The best thing we can do is supervise when our kids play online and continue to have conversations about internet safety with our kids.