Roblox's $30 Billion Empire Was Built on the Backs of Annoyed Parents
The popular online gaming platform's sales have grown by 82 percent over the past year.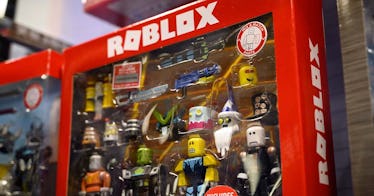 Getty
Roblox is set to go public today after being valued at nearly $30 billion in January, with the New York Stock Exchange putting the opening price of the company's stock at $45 per share (though that is just a guess and does not indicate where the actual price might land). And while that IPO is staggering, parents know that it's that high because the company built its worth off the backs of annoyed parents — for better or for worse.
Truly, while most companies have struggled to stay afloat in the midst of the year-long pandemic, the popular online game platform's sales have grown by 82% over the past year. Online gaming was in a unique position to thrive amid a pandemic that kept us all inside and isolated from others for nearly a year, and now, longer. The success of Roblox is in large part thanks to its developers, who are able to create their own games on the platform without needing advanced knowledge of coding. Creating games can even become a lucrative opportunity for developers, as the company shares 30% of a game's virtual sales with its creators.
In its most recent update, Roblox said that it paid $328.7 million to developers last year, which marked an increase of nearly 200% compared to 2019. And over 1,250 developers were able to earn at least $10,000 in Robux, Roblox's digital currency which can be converted to cash. For context, a Roblox plan of $19.99 per month gets people 2,200 Robux to spend on in-app purchases — but 100,000 Robux can be exchanged for $300.00 in real cash.
While in order to make money off of the platform, creators have to be at least 13-years-old, trade rare items, or create games within the Roblox world that cost money to play or have fees, kids often pay for those things without their parent's permission due to their sneaky, tech-native knowledge — an event so frequent that it has become its own genre of a local news story.
Robux are the bane of basically every parent's existence — how many stories have you seen where kids spend hundreds, or even thousands, of dollars of in-app purchases on Roblox for Robux? The Reddit community is often populated with stories of parents figuring out that their kid spent their money on app-money so they can make in-game purchases to creators and attempting to cancel said purchases.
But they're also a great way for the platform to make money, and to incentivize people to keep playing because the game can become a real hobby that makes them cash.
"What used to be a hobby has become a job for an individual person, and now is more and more becoming the foundation for large, incredibly creative studios who are emerging on our platform," said CEO David Baszucki, proving the point.
And while creators have helped the platform grow, and become uber profitable to the point where they have such a great IPO, kids have specifically played a major role in Roblox's growth in the past year, as the platform has allowed kids who are stuck at home to socialize while playing games.
One Roblox advisor has said that three-quarters of US kids between the ages of nine and 12 have used the platform and while there are always questions about how safe any online space is for kids, the company has a "no tolerance" policy against profanity and other offensive content. While no platform is completely, 100% safe for kids, Roblox appears to take online threats seriously by employing 1,600 full-time employees who work exclusively to ensure that the platform is kept safe for underage users.