Robert Pattinson Explains Why Being Batman Is "Humiliating"
"You already feel powerful."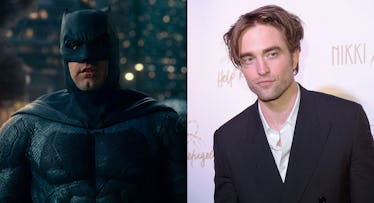 When Robert Pattinson was cast as the next Batman earlier this year, the internet did what it usually does when a new Batman is announced; freak out. But now, that the reality probably setting in for everyone that the former Twilight heartthrob is the next caped-crusader, what's it going to be like? According to Pattinson himself, being Batman is apparently the best of times and the worst of times. Particularly for his ass.
On Tuesday, Variety published a new interview with Pattinson in which the actor revealed, that yes he's tried on the new Batsuit and yes, it's already changed his outlook on the world and that being in the iconic costume is "transformative." Though, that doesn't mean it's easy to get into the suit.
"It's maybe the craziest thing I've ever done in terms of movie stuff," the former teen-vampire said. "You do feel very powerful immediately. And it's pretty astonishing, something that is incredibly difficult to get into, so the ritual of getting into it is pretty humiliating. You've got five people trying to shove you into something. Once you've got it on, it's like, 'Yeah, I feel strong, I feel tough, even though I had to have someone squeezing my butt cheeks into the legs."
So, basically, if you want to be Batman, you have to get used to people shoving a bunch of rubber all over your ass and legs. But, according to Pattinson, it's worth it.
Robert Pattinson will star as Bruce Wayne/Batman in a new film called The Batman, set to be released in June of 2021. The film is directed by Matt Reeves.
This article was originally published on