Rob Delaney is a Super Dad Without Powers in the New 'Deadpool 2' Trailer
The stand-up comedian is bringing his dadbod and epic mustache to the superhero genre.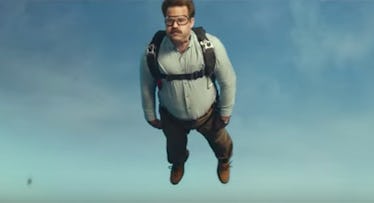 Deadpool 2
The final trailer for Deadpool 2 was dropped online today, showing off a bit of the quirky irreverence and fourth-wall breaking that we've come to expect from our beloved anti-hero (played by known incorrigible scamp Ryan Reynolds) along with introducing us to some new characters to look out for in the highly-anticipated sequel.
The trailer highlights Deadpool assembling a "super duper fucking group" in order to take on Cable, the badass brooding villain played by Josh Brolin who Deadpool notes might be more comfortable in the grittier DC universe. We are shown several of the unconventional heroes who audition to join Deadpool's motley crew, including Bedlam, Shatterstar, and Domino.
But the real standout is Peter, a middle-aged man played by comedian Rob Delaney whose only powers seem to be his impeccable sense of dad fashion and the ability to grow a totally bitching mustache. Peter shows up at the very end of the trailer donning the official super dad costume: a pair of khakis, a plaid shirt, and a member's only jacket. Equal parts practical and stylish.
A slightly bemused Deadpool and his best bud Weasel ask Peter if he has any powers and he says no, explaining that he showed up because "I just saw the ad." The honesty is enough for Deadpool, who tells Peter he is in the gang. The trailer then immediately cuts to Peter casually skydiving, likely on his way to save the world before heading home to watch golf.
Given Deadpool's well-known love for taking conventional wisdom and shattering it into a million pieces just for shits and giggles, don't be surprised if Peter has a significant role to play in the movie. His earnest but slightly confused attitude plays nicely with Deadpool's trademark snark and having a delightfully dorky dad along for the ride is guaranteed to produce a whole lot of laughs.