You Need To Read This NFL Pro's Defense Of Trans Kids
"Isn't it important for trans children more than most to feel the belonging of a team, especially when society is questioning they belong at all?"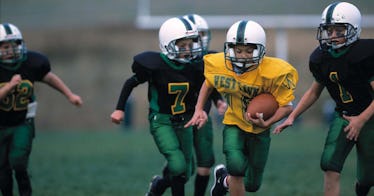 All across the United States, the essential rights of transgender children have been under attack. Hundreds of bills across the country have targeted the ability of transgender children to not just play youth sports on teams that correspond to their gender, but also their ability to receive health care and gender-affirming care. Some bills would make it felonies for doctors to help trans children — and Arkansas successfully passed a bill making gender-affirming care illegal. A bill in North Carolina banned gender-affirming care for everyone under 21.
A bill that just passed the house in Florida would subject children to genital checks to ensure they are playing on a sports team that corresponds with their assigned sex at birth. These bills all do the same things: single out trans children, deny them access to full participation in society, make them less safe, and force them to feel less accepted.
In a new op-ed, NFL veteran RK Russell wrote specifically about legislation cropping up across the country that targets transgender student-athletes. NFL veteran RK Russell has offered his support and penned a powerful essay arguing for the right to play sports. His message should be required reading for all parents – and all adults who have any say in the ability to allow transgender kids to live their full, happy, joyful lives.
RK Russell has played for the Dallas Cowboys and Tampa Bay Buccaneers in his career and credits the sport for giving him a sense of community. The athlete recently published an essay for The Guardian, arguing that excluding trans athletes "is to use sport in direct opposition of where its true power lies."
RK digs deep into his childhood and the struggles he was up against from the beginning. "I was from a single-parent family in a lower income bracket," he wrote, adding that his "windows of opportunity narrowed as time went on."
However, when RK was "given an opportunity in football," he found love there. He found connection and a sense of belonging. And RK argues that it's exactly what all kids deserve and what trans kids need, especially.
"They need to be treated like kids, like they are worthy of the opportunity to play, to find love and community on the field," RK writes, "Everyone is worthy of this." He also points out the anti-science argument that trans kids may perform sports better than other kids.
RK says that sports "introduces us to the notion of a team that feels like family, but it also allows everyone to feel connected by a common goal." Adding, "Isn't it important for trans children more than most to feel the belonging of a team, especially when society is questioning they belong at all?"
To him, the locker room is a place where people can "feel a part of something great, powerful, and welcoming." It's what the locker room gave to him when he needed it, and that sense of belonging is the true power of sports. But the legislation taking aim at trans athletes is undermining the ability for trans kids to get that essential experience — and harming their mental and physical health to do so.
"The more than 200 anti-trans bills currently under consideration in state legislatures across the US are not about trans youth in sports, " RK says, "but about attacking, harming, and eradicating the most vulnerable of us all."
RK called on athletes to stand up against the legislation attacking trans athletes and questioning their place in sports. Adding, "we also need athletes hijacking the narrative that these actions are to protect anyone."
"Don't let them distract from what's really going on," he says. "This is an attack, and we need to defend ourselves and our trans youth. We need to defend equality."
This article was originally published on