Don't Panic! High Gas Prices Are (Apparently) a Good Sign for the Economy
Sorry about your wallet. But also maybe congratulations to your wallet?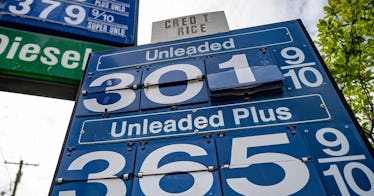 GETTY
The price that drivers pay at the gas station pump has risen considerably since the darkest days of the pandemic. There are many reasons for this increase in gas prices — no small reason is the fact that Americans are beginning to set out on the open road again after over a year of being stuck inside due to the COVID-19 pandemic — but one under-reported reason (besides the pain for consumers at gas-tank fill-up time) is the fact that it might actually be a good sign that the economy is in recovery. Even if it is super annoying for the rest of us.
Here's what to know.
Gas Prices Tanked at the Beginning of the Pandemic
Obviously, at one point early in the pandemic, gas prices tanked completely, making it feel more like the year 2000 at the gas pump than 2020. In April and May of 2020, on average, the typical consumer in the United States paid less than two dollars — some $1.95 per gallon — at the pump.
Compared to December of 2019, when gas was somewhere between $2.60 and $2.80 per gallon, this was a pretty significant drop in gasoline costs. Those low prices continued throughout 2020, rising in June, July, and August of 2020 before evening out at about $2.25 per gallon. But this was still much cheaper than gasoline had cost just five or six months before.
And while gasoline remained cheap throughout the remainder of 2020, gas prices are back on the rise as vaccines get into people's arms, as people return to work, restrictions lift, and the hot summer months beg for an escape.
The drop in gasoline prices has an easily identifiable cause. Per the Bureau of Labor Statistics, that is that the sharp decline in petroleum (and then gas) "reflected the dramatic shift in economic activity caused by the onset of the COVID-19 pandemic. Shocks to demand and then supply pushed prices for petroleum products downward." At one point, oil futures went into the negative. People stayed home and one of the most commonly sought out materials stayed in barrels.
And They're Slowly on the Rise
But now, as people genuinely begin to drive more, from running errands to going on vacations, driving to the store, restaurants, and work — i.e. engaging in the normal economic activities that they did before the COVID-19 pandemic — the price of gasoline is rising.
By late January of 2021, the average price of a gallon of gasoline was $2.40. The average cost of a regular grade gallon of gas right now is a little over $3.00, according to the AAA. So, gasoline is nearly a dollar more per gallon than it was a year ago nationally ($2.10 per gallon.)
But the average obscures some of the more… uh, intense prices at the pump. Basically, some states have gas prices that are way, way more expensive than others. As of June 15, for example, gas prices in California were anywhere from 4.23 dollars per gallon to 3.25, and relief in general on the West Coast is hard to find, with most gas prices in the western states, Alaska, and Hawaii is just about that expensive. Meanwhile, other states are costing at well below $3/a gallon. So your luck really depends on where you live — and even what city you live in each state.
Which is Actually a Good Sign
And while that's obviously leading to pain at the pump, it's a good sign that the American economy is recovering as COVID-19 cases drop precipitously and normal life reopens itself. Unfortunately, some say that gasoline prices could still rise over the summer months if the economy continues to rebound, but a $4 gallon, per some economic experts who spoke to the Detroit Free Press, still seems out of reach.
So, sorry about the annoyance here. But does it help that it's a good sign in general?
This article was originally published on