RIP Joanne Rogers: Here's How The World Paid Tribute to Fred Rogers' Wife
Mrs. Rogers has passed away. But just like her beloved husband, she will never be forgotten.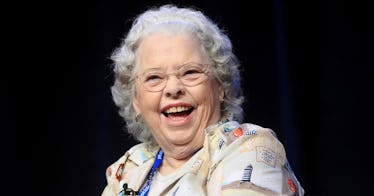 GETTY
Joanne Rogers has died at the age of 92. She was the widow of Fred Rogers, but also a killer pianist and clearly a hilarious woman. She will be deeply missed. A statement from Fred Rogers Productions noted: "The loving partner of Fred Rogers for more than 50 years, she continued their shared commitment to supporting children and families after his death as chair of the board of Fred Rogers Productions. Joanne was a brilliant and accomplished musician, a wonderful advocate for the arts, and a dear friend to everyone in our organization. "
After Mister Rogers passed away in 2003, the world mourned. But, oddly, we also were given seemingly an endless stream of hilarious and heartwarming anecdotes from his widow. There was the time she said Fred used tactical farts to make her laugh And then, as recently as September 2020, she appeared on The Daily Show, and noted, without apology that Trump would have no place in the neighborhood of make-believe. In some senses, Joanne Rogers appeared to be the slightly more acerbic and grounded intelligence behind Fred's conciliatory, warm and fuzzy persona.
Fred and Joanne met when he attended Rollins College in Florida. They were married for 50 years, during which time Joanne continued to tour as a successful classical pianist. She cited her and Fred's love of playing music to be one of the reasons why their marriage worked.
In authorizing her approval of the 2018 film Won't You Be My Neighbor, Rogers said that she wanted to make sure the film "didn't portray [Rogers] as a saint but as an ordinary man who made his mark through the simplicity of kindness."
Here's how the world paid tribute to the passing of Joanne Rogers.
Mister Rogers' Neighborhood