Chuck Yeager's Advice to Children Are Still Words to Live By
This is what "the right stuff" looked like.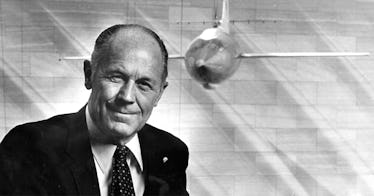 GETTY
Charles Elwood Yeager, known to the world as Chuck Yeager, was epically and eternally deemed by Tom Wolfe to be "the most righteous of all the possessors of the right stuff." The legendary World War II pilot and Air Force general, who, in his Bell Aircraft X-1, Glamorous Glennis, earned the distinction of being the first human to break the sound barrier, died on Monday, December 7, in Los Angeles at the age of 97.
According to the New York Times, General Yeager "came out of the West Virginia hills with only a high school education and with a drawl that left many a fellow pilot bewildered. The first time he went up in a plane, he was sick to his stomach. But he became a fighter ace in World War II, shooting down five German planes in a single day and 13 over all. In the decade that followed, he helped usher in the age of military jets and spaceflight. He flew more than 150 military aircraft, logging more than 10,000 hours in the air. His signal achievement came on Oct. 14, 1947, when he climbed out of a B-29 bomber as it ascended over the Mojave Desert in California and entered the cockpit of an orange, bullet-shaped, rocket-powered experimental plane attached to the bomb bay."Yeager flew Glamorous Glennis at 700 miles per hour and, at approximately the 43,000-foot mark, generating the so-called "sonic boom" and thus breaking the sound barrier. More miraculously, Yeager and his plane survived, proving that such speeds didn't necessarily mean the resulting shock waves would tear man and machine to pieces. Decades later, Wolfe's depiction of Yeager in his 1979 bestselling book, The Right Stuff, and Sam Shepard's performance as Yeager in Philip Kaufman's 1983 big-screen adaptation of the book, combined to cement Yeager as an all-American hero for the ages. Over the course of his life, Yeager received an array of coveted decorations, among them the Legion of Merit, the Bronze Star, the Distinguished Service Medal, the Silver Star, and the Distinguished Flying Cross. Also, in 1985, President Ronald Reagan bestowed up him the Presidential Medal of Freedom, our nation's highest civilian award. Additionally, Yeager wrote a memoir, 1985's Yeager (with Leo Janos), appeared in numerous TV commercials, and made a cameo in The Right Stuff, playing Fred, a bartender who seems to eavesdrop on a conversation about the "space race." Back in 2009, in an interview with Men's Journal, Yeager was asked, What's the best advice you ever received? His reply was typical Yeager, blunt and amusing and sensible:
"I get a lot of letters from kids: 'What would you recommend that I do?' And my simple answer is that nobody ever gave me any advice. I have found that those who do it on their own do it best."
General Yeager is survived by his second wife, Victoria, and three of his four children with first wife, Glennis, whose name inspired Glamorous Glennis.
This article was originally published on