These Two bell hooks Quotes About Masculinity Are Essential
bell hooks taught men how the patriarchy harms them. Men should listen.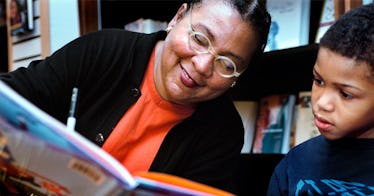 GETTY
On December 15, 2021, the family of bell hooks announced that the lauded feminist thinker, author, professor, and social activist, had passed away at the age of 69. She was one of the country's foremost feminist scholars — and was often celebrated for her deeply accessible writing on the intersection of race, gender, and sexuality. She was also a prolific author — and had published more than 30 books in her lifetime.
She also — critically and importantly — made feminism make sense for men. Her 2004 book, The Will to Change: Men, Masculinity, and Love taught men how to, well, be better and more full men, and explained in simple terms how the patriarchy harms them. While we all mourn her loss, it's important for the men who have been impacted by her work — and her frank discussion of how the patriarchy harms men (even when they benefit and can oppress others by the power of it) as well as women and how all people need to link arms to dismantle it for their emotional and mental health — to sit and reflect on her legacy with these quotes, and to share these quotes with other men in the world who might need it.
Those simple terms? "To indoctrinate boys into the rules of patriarchy, we force them to feel pain and to deny their feelings."
And another: "Learning to wear a mask (that word already embedded in the term "masculinity") is the first lesson in patriarchal masculinity that a boy learns. He learns that his core feelings cannot be expressed if they do not conform to the acceptable behaviors sexism defines as male. Asked to give up the true self in order to realize the patriarchal ideal, boys learn self-betrayal early and are rewarded for these acts of soul murder."
bell hooks implored not just women to stand up to fight the patriarchy. Instead, she explained in clear and in no uncertain terms that the patriarchy does its best to harm both men and women by trapping them in rigid, outdated gender roles that limit men's emotional expression — that forces them to feel pain and then deny their feelings — to betray themselves in order for a piece of the societal pie.
Perhaps the best thing men can do to honor bell hooks after her passing is to fight to not engage with those outdated social norms. In other words, feeling deeply, refusing to conform to patriarchal masculinity, is just about as good a way of honoring her memory as anything.
This article was originally published on