Baby Monitors Are Being Hacked Right Now. Here's How Parents Can Keep Safe
This stuff is scary. But you're not powerless.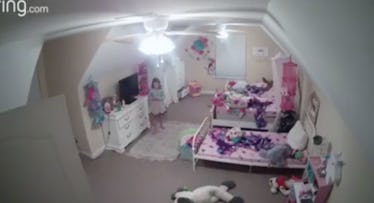 Credit: Twitter / Jessica_Holley
There are a lot of scary things that come with being a parent. At times, it's hard not to sit in the worst-that-could-happen scenarios, but news stories like this one doesn't help. There have been several stories lately of families reporting people hacking into their baby monitors to spy on kids or to try and convince them to do terrible things. It makes my gut hurt and it really hits hard that there are good and bad things with technology—and as parents, we need to be extra careful.
The latest news story hit the family of an 8-year-old girl who was terrified while in her own bedroom. A Ring camera was hacked in Tennessee and watching the video, I feel for the little girl. Out of nowhere, she heard a song start to play in her room with the lyrics "tiptoe through the window" playing through the Ring camera. In the video, we see the girl enter the room and we hear a man's voice say, "I'm your best friend, I'm Santa Claus."
The terrified child screams for her mom and the voice says, "Don't you want to be my best friend?" The news report says that the hacker continued to play music and "encouraged destructive behavior" asking her to break her TV and furniture before the girl's dad was able to cut the feed.
According to The Cut, this incident is just one of four that happened this week alone. Other incidents of people having their cameras hacked include a Florida family whose home alarm was hacked and a voice made some horrifying remarks on their family, and another where a woman in Atlanta had her camera hacked and had a man's voice wake her up.
Ring sent a press release to CNN regarding the incident with the 8-year-old saying, "Customer trust is important to us and we take the security of our devices seriously." The statement continued, "We have investigated this incident and can confirm it is in no way related to a breach or compromise of Ring's security."
While the companies say the hackings are not a result of things they're doing, as parents, we need to be aware of these safety holes people are finding and do what we can to keep our kids safe.
Here are a few steps to take:
Always enable the two-factor authentication on your Ring account
Don't share your secure passwords with anyone; instead, add shared users with their own login info to people you want to have access to your cameras
Choose strong passwords, never use the default password, and change yours regularly
With technology making life easier for parents, we have to make sure we're not trading our kid's safety for convenience.
This article was originally published on