Riley Keough Reveals How Her Baby's Name Honors Granddad Elvis
Keough's daughter has a unique name that honors her family members.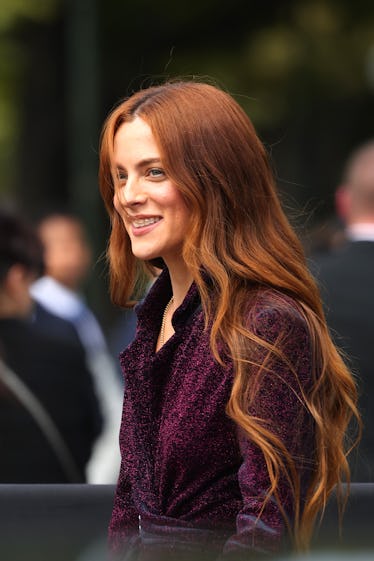 Jacopo Raule/Getty Images Entertainment/Getty Images
Acclaimed actress Riley Keough is opening up about becoming a mom to a little girl of her own, whom she shares with her husband, Ben Smith-Petersen. Although her daughter was born a year ago, in August 2022, via surrogate, Keough only recently talked about her new daughter and growing family for a Vanity Fair cover story, in which she also revealed the meaningful name she gave to her girl: Tupelo Storm Smith-Peterson.
Keough, Elvis Presley's granddaughter, and Lisa Marie Presley's daughter, was born into the spotlight. However, when it came to her own daughter, Keough kept her birth a secret and out of the spotlight.
"The world first discovered that Keough and her husband had welcomed a daughter at Lisa Marie's funeral at Graceland in January. Keough wrote a eulogy but was too overcome to deliver it, so her husband read it for her," Vanity Fair writes. "It included these lines: 'I hope I can love my daughter the way you loved me, the way you loved my brother and my sisters. Thank you for giving me strength, my heart, my empathy, my courage, my sense of humor, my manners, my temper, my wildness, my tenacity. I'm a product of your heart.'"
Now, the proud mom is ready to share her daughter's name and the meaningful ways it holds connections to her family and history.
Tupelo is a very unique baby name — and it's a subtle nod to Keough's grandfather, Elvis, who was born in Tupelo, Mississippi.
"It's funny because we picked her name before the Elvis movie," Keough told Vanity Fair. "I was like, 'This is great because it's not really a well-known word or name in relation to my family — it's not like Memphis or something. Then when the Elvis movie came out, it was like, Tupelo this and Tupelo that. I was like, 'Oh, no.' But it's fine."
According to Nameberry, Tupelo is a gender-neutral name that means "swamp tree," which comes from the "light wood that grows in the swamps of the south." It's not a common name by any means, and according to the U.S. Social Security Administration, which tracks the popularity of baby names, Tupelo hasn't been in the top 1,000 most popular names at any point since 1900, making it quite unique.
Keough's daughter's middle name — Storm — is also a nod to family, a tribute to her late brother, Benjamin Storm Keough, who died in 2020.
Storm as a baby name is certainly more popular than Tupelo, but it's still a unique option, particularly for a girl. Nameberry reports the name is gender-neutral, but it's more popular for boys. The U.S. Social Security Administration shows the name Storm hasn't been in the top 1,000 baby names for girls since the 1900s.
You can read Keough's full interview with Vanity Fair here.