Rick Moranis Is Saving Our Childhoods With a New 'Honey, I Shrunk the Kids' Movie
Great news we didn't know we needed.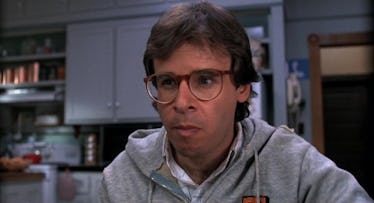 Credit: The Walt Disney Company
Our '80s dreams are coming true! Rick Moranis has reportedly signed a deal that will see him return in a new Honey, I Shrunk the Kids movie. There have been rumors of a remake of this comic science fiction film where Moranis plays a goofball scientist, and it seems like a done deal.
Deadline reports a deal is already "confirmed" for a new movie in the series, which also includes Honey, I Blew Up the Kid, the direct to video release of Honey, We Shrunk Ourselves. The title of this new movie is set to be called Shrunk.
The original director, Joe Johnson, is also set to return in the new movie remake, which will also star Frozen voice actor Josh Gad. The reports say the movie is centered around Gad's character who is the son of Wayne Szalinski, the character Rick Moranis plays. The premise is very much like the original where Gad is aspiring to be a "great" scientist like his dad, but he too accidentally shrinks the kid.
The original movie was iconic, with Deadline reporting the first two movies in the series making $281 million at the global box office because of its mix of humor and science fiction. You could even argue the movie was slightly ahead of its time with its use of movie magic tricks and props (who could forget the giant ant the shrunk kids rode) and with the remake and the new technology, Shrunk is going to be able to push those boundaries a whole lot further.
This movie is reportedly being made for a theatrical release, not a remake to be launched on Disney+, and it will be one of the first times we see Moranis on the screen since disappearing from the spotlight in 1997 following the death of his wife, Ann.
According to an interview he gave to the Hollywood Reporter in 2015 discussing why he didn't appear in the new Ghostbusters remake, he was "surprised that Disney hasn't done Honey, I Shrunk the Grandkids," and perhaps the executives caught wind of that statement and granted us the opportunity to see what happens next.