This List of How Long $1 Million in Retirement Savings Would Last You in 50 Cities is Depressing
Retirement seems so out of reach ‪— and it just might be.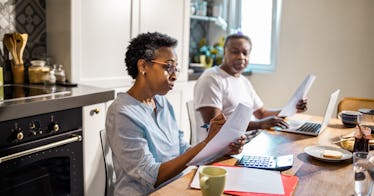 Marko Geber / Getty Images
After putting in decades of work, being able to officially retire, slow down, and focus on the things that fill you with joy is something we look forward to. The retirement age has changed a lot from when our grandparents were no longer clocking in. Many of us still have parents who are working and they're retiring a little later than their parents did.
But how long would, say, $1 million in retirement savings would actually last us? It depends on where you live. A solid retirement rule is to have 25 times your annual salary before you retire saved.
"The average retirement age is about 62 for women and nearly 65 for men, and the average life expectancy in the United States is 79 years," GOBankingRates reports. "That means your savings would need to last between 14 and 17 years."
The site says that on average when looking at data from the Bureau of Labor Statistics and the average monthly Social Security benefits, having $1 million for retirement could last as long as 29 years, 1 month, and 24 days on paper. That's certainly a good amount of time if you retire at age 60. But does anyone even have that much?
A 2020 study by Allianz Life found that "42 percent of those within 10 years of retirement said they are currently unable to put away any money for retirement." In addition, 32 percent of those who participated in the study who were near retirement said they were "way too far behind" on their goals of saving to be able to catch up in time to retire. With student loan debt, the cost of saving to send our own kids to college, depressed wages, and staggering inflation, saving for retirement is just not achievable for most Americans. In fact, 25 percent of workers below retirement age don't have anything saved for retirement at all, per one survey.
But GOBankingRates wanted to dig in further to find out exactly how long $1 million for retirement would last in the 50 largest cities across the country. And it's kind of depressing to look at. To calculate how long the money would last, GOBankingRates used data from the Bureau of Labor Statistics and looked at the cost-of-living from Sperling's Best Places. That was then compared to the Social Security benefits averages, then divided 1 million by that figure to calculate how long the money would last in retirement.
These U.S cities would have $1 million last the longest through retirement:
Memphis, Tennessee: one million would last 45 years, 4 months, 1 day
El Paso, Texas: one million would last 40 years, 3 months, 22 days
Wichita, Kansas: one million would last 39 years, 8 months, 27 days
Tulsa, Oklahoma: one million would last 38 years, 10 months, 15 days
Indianapolis, Indiana: one million would last 38 years, 7 months, 23 days
These U.S cities that would blow through the $1 million for retirement quickly:
San Francisco, California: one million would last 8 years, 3 months, 19 days
San Jose, California: one million would last 10 years, 9 months, 20 days
New York, New York: one million would last 12 years, 8 months, 16 days
Oakland, California: one million would last 13 years, 10 months, 10 days
Los Angeles, California: one million would last 13 years, 11 months, 19 days