Resurfaced Viral, Real Life Tortoise vs. Hare Race is Turtley Awesome
The resurfaced viral video of a real life tortoise and hare squaring off for a race has gone viral for good reason.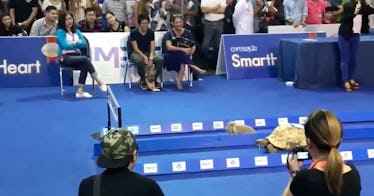 A resurfaced viral video from several years ago of a tortoise and a hare racing — yes, in real life, not in a children's book — is making the rounds on Twitter again, and once you see it, you'll understand why. It's not every day that a real-life tortoise and a real-life hare race one another in a controlled race environment in a tale that mimics Aesop's Fables.
But, the real-life rendering of perhaps the most famous of the Fables actually happened, and in the funniest twist of the video, the tortoise really did win, proving that slow and steady absolutely does win the race, making the metaphorical lesson of the tale reality. In fact, the bunny takes the lead and stops for a while — just like the fairy tale — while the tortoise plots on, slowly, deliberately, inching towards the win.The race, which appears to have happened in 2016, first went viral in 2017 from a Twitter account that has since been suspended; it was covered contemporaneously in publications like The Daily Dotand Thrillist, and then ultimately faded into obscurity before resurfacing just yesterday on Twitter to mega-viral acclaim. So while there's nothing new about the video — and, in fact, there have been several races of the same kind, as humans are determined to figure out if the central metaphor of the Tortoise v. the Hare has any human truth to it, or genuine wisdom — it's still simply really fun.
And, ultimately, it's fun to show your kids, especially those of whom have the Tortoise and the Hare tale fresher in their memories. The popularity of these tales — and of the in-real-life reenactments of them, which almost always end with the tortoise winning — shows that the central lesson of Aesop's Fables live on.