These Are the 10 Cities With the Fastest-Rising Rents Since 2021
The top slot might shock you.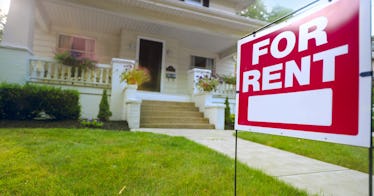 Ksenia Ragozina / Shutterstock
There are a lot of factors that are stressing American families out right now. One of the larger ones is widespread price increases. From food to gas and clothing and pet food, our pocketbooks are getting squeezed. For families that pay rent, there's an added expense, particularly if you live in one of the US cities that experienced the fastest-rising rents over the last year. Here's what you need to know.
"The median monthly asking rent in the U.S. increased 17 percent year over year to a record high of $1,940 in March, the largest annual jump since at least February 2020," reports Redfin. However, not all cities and states have seen that much of an increase. And in some cases, the increase has been more drastic.
Redfin wanted to find out which of the large metropolitan cities across the country had rent prices increase or decrease, and by what amount. To find this out, they analyzed home sales data from multiple listing service (MLS), public records, and rent prices from RentPath, looking specifically at the 50 largest metro areas in the US.
The top 10 metro cities in the US that saw the largest rent increase year over year are well above the average increase of 17 percent – in many cases it doubled. There were only a few cities on the list of 50 that saw a rent decrease from the year before.
Top 10 metro areas with fastest-rising rents year over year:
Portland, OR (+40 percent)
Austin, TX (+38 percent)
New York, NY (+35 percent)
New Brunswick, NJ (+35 percent)
Newark, NJ (+35 percent)
Nassau County, NY (+35 percent)
Fort Lauderdale, FL (+33 percent)
Miami, FL (+33 percent)
West Palm Beach, FL (+33 percent)
Orlando, FL (+30 percent)
The metro areas that saw a decrease in rent prices over last year:
Milwaukee, WI (-10 percent)
Kansas City, MO (-1.1 percent)
A breaking point has been hit by families who are struggling, and they've been trying to stay afloat for a long time. And unfortunately, the economic uncertainty is likely to be around for a while unless the government supports (like the Child Tax Credit) is reintroduced.