Millions of American Households See Rent Costs Increase As Much As 40 Percent
In some cities, rent prices have skyrocketed with a 40 percent increase in one year.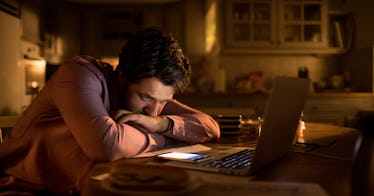 Geber86 / Getty Images
American families have been hit hard during the pandemic. Unemployment, skyrocketing weekly grocery bills, struggling mental health for us and our kids. The past several years have been an ever-changing terrain — and one challenge has been the skyrocketing cost of homeownership. During the pandemic, many people reconsidered their home life or even the cities they lived in and looked for greener pastures. In the meantime, low housing stock and high demand led an already unaffordable asset to become downright beyond expensive. But it's not just homeownership that is more expensive than ever — for the many millennial and Gen X parents who can't afford homeownership, rent costs are climbing, too.
In fact, per a Redfin study, the average cost of rent nationwide jumped 14 percent. In some cities, that figure is up to 30 percent. American families struggle to keep food on their tables and a roof over their heads without any safety net. And costs are continuing to jump. According to the aforementioned Redfin study, the average monthly listed rents in the United States increased just over 14 percent year over year. In some cities, the rent jump has doubled that. For example, rent in Portland increased by 29 percent; Miami went up 34 percent; New York jumped 35 percent; rent in Austin skyrocketed with a 40 percent increase in rent costs.
The timing of the jump in rent costs couldn't be worse. With no Child Tax Credit, a program that slashed child poverty, the end of the extra unemployment insurance established by the CARES Act to help workers through the pandemic ending on Labor Day, the cessation of the CARES Act mortgage forbearance program that allowed 1.6 million homeowners to stay in their homes, and federal eviction protections ensuring families couldn't be evicted for not being able to pay their rent during the pandemic has meant that parents have fewer supports than ever.
"The growth in mortgage payments has been driven by both climbing prices and climbing mortgage rates," Redfin Chief Economist Daryl Fairweather explained. "And those rising mortgage costs push more potential homebuyers into renting instead, which pushes up demand and prices for rentals. In addition, mortgage rate increases are accelerating, which will cause both mortgage payments and rent to grow throughout 2022." According to a report released by the Federal Reserve Bank of New York, Americans can expect rent to increase by an additional 10 percent this year, too.
This means that one in four renters, or 11 million households, who already spend more than half of their monthly income on rent and more more likely than not below the poverty line, are going to be even further behind and have to face an even larger struggle to keep that roof of their heads and food on the table.
"The fact is, for too many Americans, housing is unaffordable," Dennis Shea, executive director of the J. Ronald Terwilliger Center for Housing Policy at the Bipartisan Policy Center told The Washington Post. "We have an inadequate supply of homes — for both rent and for sale — and of course, the lowest-income families are being hit hardest."
Families across the country are at a breaking point, and it's probably fair to say they've been there for a long time. Now that many government supports are disappearing, the economic uncertainty that many families face will only be more intense.
This article was originally published on