Reminder to the Critics: Dolly Parton Is a Saint
Dolly Parton is better than any one of us. And that's a fact.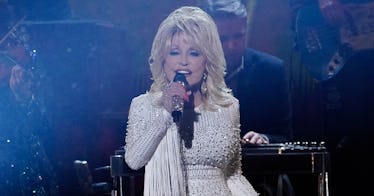 Getty
Over the past few days, country Dolly Parton, otherwise known as America's sweetheart, has been embroiled in scandal after she dared suggest in an interview with Billboard that Black Lives Matter. "Of course Black lives matter," she said. "Do we think our little white asses are the only ones that matter? No!" For some conservative commentators and critics of the BLM movement, the statement created an open-fire season on Nashville's hero. (A star of 'Squidbillies,' an Adult Swim program, was fired from his job after publicly critiquing Dolly, using offensive and derogatory language.) But for major fans of Dolly, her comment was more of the same: she's long-been willing to listen, to change her own ways, and help out the people in her community. Dolly Parton is, quite frankly, a saint. Here are a few of the reasons why.
She Changed The Name of "Dolly Parton's Stampede" Well Before The Mass Protests
In 2018, Dolly renamed a Civil War-themed attraction at Dollywood from "Dixie Stampede" to "Dolly Parton's Stampede." Per her own words, as soon as she realized that the term "Dixie" was offensive to people, she changed it, simple as that. "As soon as you realize that something is a problem, you should fix it. Don't be a dumbass," she said, continuing: "That's where my heart is. I would never dream of hurting anybody on purpose."
After Tennessee Wildfires, She Created a Dolly-UBI
In 2016, wildfires ripped through her hometown. She immediately began the My People Fund, where she gave affected families who had been displaced by the massive wildfires $1,000 a month, through outside donations and from Parton's own wallet. In total, Parton distributed nearly $9 million to help the families in need for six months of support. That fund was also used to provide a scholarship fund for high school juniors and seniors. Students in the area of that age each got $4,500 if they lost their homes.
Dolly Is The Largest Employer in Sevier County, Tennessee
Dolly Parton is one of the largest employers in her own hometown nestled in the Great Smoky Mountains of East Tennessee. Nearby her hometown, in Pigeon Forge, Dolly constructed Dollywood in 1986 after buying a theme park and expanding the park to include attractions, live shows, and general Dolly-themed regalia. The park, which employs 3,000 people in the immediate area, is the largest employer in the region. Talk about giving back!
Dolly Has Run a Books Charity for 30 Years
Dolly's Imagination Library is a charity that Dolly has run for nearly three decades. The library initially sent kids in the Sevierville region a free new book every month from birth until they hit kindergarten, but now it runs in all 50 states and even in other countries across the world. She has sent out at least 100 million books to needy kids.
She's Funding COVID-19 Vaccine Research
In April, Dolly Parton gifted Vanderbilt University $1 million to aid them in their work to research a COVID-19 vaccine. She did it in honor of her friend — Dr. Naji Abumrad — who has told her "they were making some exciting advancements towards that research of the coronavirus for a cure." They became friends six years ago after she had a car accident and was treated at Vanderbilt.
She Immediately Jumped Into Running Virtual Story Time for Kids
When the COVID-19 outbreak hit, Parton immediately jumped in to action and started doing weekly story-time live-streams for kids across the country. She wasn't the only one to do so, of course, but it's just another sign that Parton is always thinking of everyone else — and that her heart is as good as gold.