Remdesivir Is Not a Vaccine, Nor a Cure
The new antiviral drug is a promising development in the fight against COVID-19.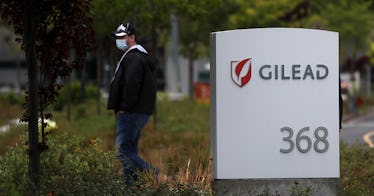 Getty
Is the coronavirus miracle cure suddenly here?
As of this week, you're probably seeing headlines about an experimental drug called Remdesivir. It's caught the attention of researchers and pharmaceutical companies and has shown a promising effect when used to combat COVID-19. A large study of over 1,000 patients showed that those who took the drug recovered, on average, four days faster than those who were on the placebo. The trial was so successful that doctors ended it for ethical reasons, wanting to put those who were on the placebo on the real drug in order to shorten their time suffering from the virus. So, what's next?
What is Remdesivir?
Remdesivir, manufactured and tested by Gilead Sciences of Foster City, California, has been treated as a bit of a silver bullet against COVID-19, which researchers have struggled to find ways to limit its aggressiveness and mortality rate of COVID-19. That might be too high of a praise for the drug, which is an anti-viral, not a cure.
Remdesivir does not cure COVID-19.
Gilead was so confident that remdesivir would be a significant help in fighting COVID-19 that they already launched into production of the drug, making enough of the medicine to initially treat some 30,000 patients. Then they discovered that a 5-day course of the drug was as effective as a 10-day course of the drug, which could mean that double the number of patients could be treated with remdesivir and shorten their illness.
Remdesivir works, basically, by spoiling an enzyme that viruses like COVID-19 use to replicate, making the virus harder to replicate in the body and making it easier to beat. While the effectiveness of remdesivir is certainly not as effective as a vaccine — it can't prevent people from getting the virus — and it's not a cure — it's simply an antiviral that lessens the pain, suffering, and duration of the illness — it does represent a major step forward in the fight against COVID-19.
The drug is not associated with lower mortality rates.
Remdesivir has not been associated with a statistically significant lessened mortality rate in patients. But still, the shortened recovery time is huge for hospitals and patients. The drug could shorten hospital stays of the majority of their patients by four days, therefore helping flatten the curve and lessen the strain on nurses, doctors, and hospital resources like ventilators and beds.
This story is developing.
This article was originally published on