This Rap Remix of Dr. Seuss Classic is Fun As Hell
Hopefully, Migos hears the track and starts working on a Dr. Seuss mixtape ASAP.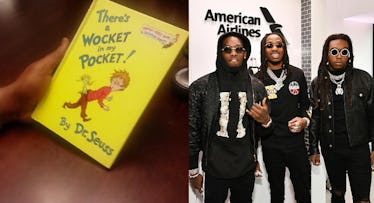 Getty Images
What happens when you combine the whimsical wordplay of Dr. Seuss with the trap-house stylings of Migos? You get an early contender for the best rap song of 2018. Don't believe us? Check out the brand new video from rapper Win Nevaluze (amazing name, by the way), who combined the two by doing a Migos-inspired rap reading of Dr. Seuss' There's a Wocket in My Pocket.
The classic Dr. Seuss book mashes up perfectly with Migos' hit song "Walk It Talk It" and Nevaluze nails Migos' signature trap delivery. But the real highlight of the video comes from Jay Lava AKA ScatterBrains News and Lord Jah, who serve as Nevaluze's hype men in the video by adding their own ad-libbed noises after each of his lines. In the end, this fun imitation of Migos sounds like it really could have been made by the Georgia rap trio.
The video was posted on YouTube over the weekend and eventually went viral when it began making the rounds on Twitter. It currently has more than 100,000 views and has many fans clamoring for Migos to do a real cover of Wocket. As of now, none of the members of Migos have responded to the viral video, but, hopefully, Quavo, Offset, and Takeoff will eventually give it a listen. Who knows, maybe they'll be inspired to start working on a Dr. Seuss mixtape. They could even call in fellow Atlanta rapper Ludacris to collaborate, as he's already shown that he needs nothing more than a beloved kid's book to spit fire on the mic.
This article was originally published on