Don't Want a Divorce? Move to California, List Suggests
There's a ranking of the best cities to get and stay married, and we have notes.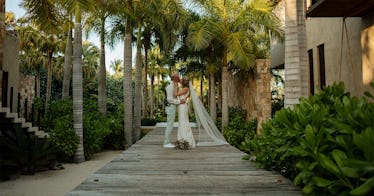 It's been said that location is everything and that is apparently even true when it comes to marriage. While some cities serve as the perfect foundation for building a long-lasting marital connection, others have all the ingredients for divorce. At least, according to this extremely official ranking of the Best Cities to Get (and Stay) Married.
The list was created by LawnStarter, which compared the 150 biggest U.S. cities across 11 key indicators of nuptial success. These indicators included the rate of married households, separation and divorce rate, number of wedding chapels and churches per 100,000 residents, and the share of never-married young people.
It could be argued that this might not be the best way to determine a ranking like this but to be fair, most of what we think we know about the rate of divorce is actually not as true as it may appear. While most people commonly cite the stat that half of all marriages end in divorce, the fact is that it is basically impossible to figure out the actual divorce rate, as experts disagree on the best way to track these numbers. (For one, not every state reports divorce data, and when divorce statistics are calculated, the CDC lumps in single people with married people. It's an entire mess.)
But, according to this very fun list, if you want to have a long and successful marriage, you should apparently head to California.
Six of the top 10 cities to stay married were in the golden state, including Fremont, which topped the entire list.
Top 5 Best Cities to Get (And Stay Married)
Fremont, CA
Jersey City, NJ
Glendale, CA
Arlington, VA
Santa Ana, CA
Top 5 Worst Cities to Get (And Stay Married)