Listen to Raffi's New Quarantine Song For Kids Right Here
Raffi comes through in a crisis.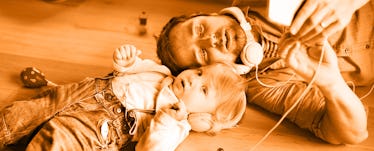 Not all rock stars look the same, and Raffi proves that. He's a renowned singer of songs for children, and so many of us grew up listening to his songs and joining him. He coined some of the most famous songs that you've heard and maybe didn't realize originated with him, such as 1976's "The More We Get Together" and "Down by the Bay." He's been producing and singing albums and songs since the '70s, and he's back again with a new timely song about being quarantined, perfect for explaining what's going on to kids.
Raffi shared his latest song on Twitter titled "Dylan Sings Quarantine," and it's all about, you guessed it, the coronavirus COVID-19 and being quarantined. Not only does it touch on that, but he sings about the need and importance of social distancing, how and why to wash your hands often, and why Medicare is so important.
He's not afraid to tackle these subjects for kids, and it's a good thing. His song is adorable and a little bit of an earworm, but it means something too. In the age of "Baby Shark," it's a good break from that and listen to. It has the same feeling as a Randy Newman song, but all Raffi, and of course, has his signature guitar.
Raffi posted the lyrics to his song on Twitter as well so your kids can sing along. While this isn't the nicest reason to release a song, there is some familiar comfort in Raffi's voice that just gives us a little cozy feeling that everything's going to be OK.
This article was originally published on