Stressed? Quibi Could Be the Perfect Streaming Service For Parents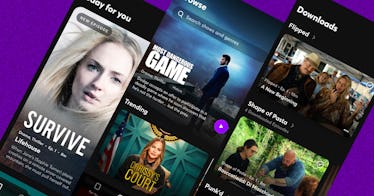 Quibi
Have you ever noticed that when something hits big, everyone tries to get in on that? We saw this happen with streaming platforms, and now Quibi is entering the landscape. Sure, this could seem like choice overload, but it might be perfect timing for stressed-out parents looking for a way to turn off their brains. Here's what Quibi is all about and what to expect from it.
Quibi is a new service that is slightly different in that it doesn't offer subscribers full movies or TV seasons. Instead, this "short-form mobile video platform" offers "quick bites" of content, meaning their episodes or projects are all 10 minutes or less. So, way more digestible for people who are always on the go, but for us parents, it means maybe we can sneak in something we find interesting without having to stay up way past our bedtime.
Quibi sounds like it could be an annoying kid character name, but according to the company, their name is a mash-up of the words "quick" and "bites" since the content on the platform will not exceed that short time limit.
Who is behind Quibi: Former Disney and DreamWorks chief Jeffrey Katzenberg is the founder of the subscription platform. Also on the team are former eBay boss Meg Whitman as the chief executive officer, and former Viacom/MTV executive Doug Herzog. Traditional TV networks are getting behind the project with media reporting the company has investments MGM, Warner Bros., Disney, BBC Studios, NBCUniversal, and Lionsgate.
What is going to be on Quibi?: Even though the platform has only 10 minutes per episode, they're not limiting the content they're going to offer. Think less Facebook or YouTube videos and more like traditional TV but shorter with both scripted and unscripted shows. Documentaries and news shows, reality TV, drama, and comedies – pretty much all the genres we expect to be on a streaming platform these days.
How much will it cost?: Quibi will have two tiers of service, including a $5 per month version, where you will see some advertising or $8 per month to view content ad-free. However, visiting its website, the platform is offering a 90-day trial without charging anything – probably because it's hard to imaging paying for short blurb content when you can get that mainly for free on Facebook and YouTube. The catch? Quibi is only available on your phone, and it's staying that way.
What kind of shows will be on Quibi?: The platform isn't live yet, but the company seems to have a whole lot of stars on board with their short-form shows. Chrissy Teigen will have Chrissy's Court, where she will act as judge to real small claims cases. Thanks a Million is Jennifer Lopez's new show, where she gives away cash to random people with a good story. Punk'd is coming back with Chance the Rapper. Most Dangerous Game is a movie in short bursts starring Liam Hemsworth and Cristoph Waltz and The Nod With Brittany & Eric, which is based on their podcast. NBC News also announced it's joining the platform giving news in a new way which could be really handy for parents who don't have a lot of time to be informed.
When is Quibi launching: Quibi is set to launch on April 6th in the United States.
With the streaming platforms being in near overload, for a new one to enter into contention, there has to be a twist to it – like Quibi's "quick bites" twist. Will it be as interesting as being able to binge a whole season of Love Is Blind or The Boys? Guess we will have to wait and see.
This article was originally published on