Quaden Bayles Bullying Was Real. But How Much Is His Mother Is Profiting From It?
A GoFundMe for this family has raised nearly $500K. So, what's really going on?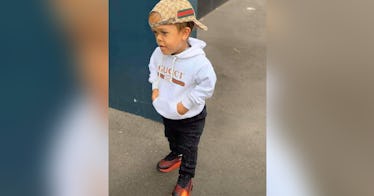 Yarraka Bayles/Instagram
One of the hardest parts of parenthood to navigate is when your child is on the receiving end of bullying. One mom and her 9-year-old son have gone viral recently for highlighting the ways being bullied can impact your life. But, the story of Quaden Bayles and his bullying, has sparked strange new questions. The bullying of Quaden Bayles was seemingly very real, but how his mother might be profiting is unclear. Here's what we know.
Quaden Bayles is a 9-year-old boy from Australia. His mother, Yarraka Bayles, posted a video reportedly on February 19th which featured her son Quaden crying uncontrollably in the back of her car. In the video, Quaden, who has dwarfism, says in the video to the camera: "Give me a knife, I want to kill myself." Yarraka said in the video; she wanted to show what bullying does and how much it's hurting her family.
When the video was shared on social media, it had reportedly had around 25 million views, and even had celebrities offering supportive messages to Quaden. Brad Williams, a comedian who also has achondroplasia like Quaden, started a GoFundMe 4 days ago on to "let Quaden know that bullying will not be tolerated and that he is a wonderful human being who deserves joy." Right now, the GoFundMe has raised nearly 500,000. And then questions on the validity of this family's claims started to roll in, by Friday when it became a trending topic on Twitter, according to Insider.
Twitter users began to question why his mother would share such a deeply personal video of her son on social media. Others started to ask if Quaden was older than 9-years-old, some claiming he was already 18 years old and was an actor or a social media influencer. Snopes has since debunked the controversy questioning if Quaden is really 18, but questions about this family remain.
According to The New York Times, the video was viewed over 25 million times before it was deleted on Sunday. The social media channels disappeared of the family have been deleted or deactivated also at that time, which didn't help in the concerns of the public.
Twitter users and media outlets also discovered that this wasn't the first time this family went pubic about bullying and was profiled in such a big way. Yarraka has been using social media and appearing on TV for a while now discussing bullying, and people are asking where all the money is going.
Quaden's story was previously profiled several times over the years, according to multiple outlets. Yarraka had shared details of her son's bullying back in 2015 when they were featured on a TV show in Australia titled Living Black, a program that covers Australia's indigenous community. During the episode, viewers followed then 4-year-old Quaden as he underwent surgery on his brain and spinal cord.
Later that year, Yarraka posed a video of her son telling kids to "stop looking at me," and he was profiled on Today in 2016 when he was 5 years old, sharing at the time that he was frequently teased by adults and children in public. Later that year, she posted another video of her son.
The GoFundMe started by Williams started to receive some questions after more than enough money was donated to help send the family to Disneyland Park; the original purpose of the fundraising. People started to worry that Quaden's mom was using the media to make money off her son's heartbreaking video.
A GoFundMe spokesperson clarified to news.com.au that the company has teams in place to make sure the funds raised reach the intended recipients saying, "GoFundMe has a dedicated team of trust and safety experts who are responsible for interacting with campaign organizers and beneficiaries to ensure that funds reach the intended place."
And Williams has clarified that he, too, is making sure "everything is completely legitimate" and promised, "money donated will not be wasted." "After all the flights, hotel, tickets, and food is paid for, any excess money will be donated to anti-bullying/anti-abuse charities," the GoFundMe clarifies.
Because this is such a high-profile news story, both fake GoFundMe accounts and social media accounts have popped up, claiming to be official. However, it seems all the family's legitimate social media pages have been deactivated or deleted. So it seems like the most this family is getting out of their social shared video is a more extensive discussion of bullying being had and a paid trip to Disneyland.
Anytime something goes viral, the general public and especially social media, come with the conspiracy theories, trying to find any hole in the story. That's not always a bad thing, especially when fundraising is involved and it's not like people haven't been duped before. But in the case of Quaden and his mom, the bullying he received is real, and while his mom has been advocating for him and others for years, that doesn't make it any less crucial to start a conversation at least.
This article was originally published on