The Newest Royal Baby is Here. What's With Their Name?
Both mom and baby are healthy and happy!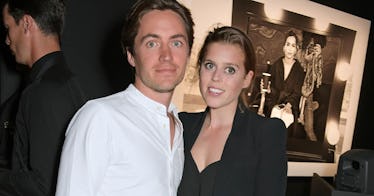 GETTY
Another royal baby has entered the world. Princess Beatrice, the granddaughter of Queen Elizabeth and the oldest child of Prince Andrew and Sarah, Duchess of York, gave birth to her first child with her husband Edoardo Mapelli Mozzi. A few details have been released about the newest member; however, we still don't know the little one's name.
According to USA Today, Princess Beatrice welcomed a little girl, which was confirmed by Buckingham Palace. The little one was born on Saturday, September 18, 2021, just before midnight at the Chelsea and Westminster Hospital in London.
"The new baby's grandparents and great-grandparents have all been informed and are delighted with the news," a release from the palace said. "The family would like to thank all the staff at the hospital for their wonderful care."
The little girl is eleventh in line to the British throne, was born weighing 6 pounds and 2 ounces, according to the palace and she joins Beatrice's "bonus son" Christopher "Wolfie," Edo's son from a previous relationship.
"Her Royal Highness and her child are both doing well, and the couple are looking forward to introducing their daughter to her big brother Christopher Woolf," the palace said.
All those details and no baby name released? It might seem odd, but it turns out that it's a royal tradition to hold the name for a few days – or even a month. As Town and Country explain, "Prince William and Kate Middleton didn't announce the names of their three children for several days after the births, while Charles and Diana waited a full week to make Prince William's name public."
The Queen didn't announce Prince Charles' name for a month, and Beatrice's sister, Eugenie, waited two weeks to announce her son's name. So, we will eventually hear the little girl's name, but will probably have to wait a few weeks still.
Congrats to the family!