Prince Harry and Prince William Aren't Doing Great
Brothers by blood, but their relationship is "forever changed."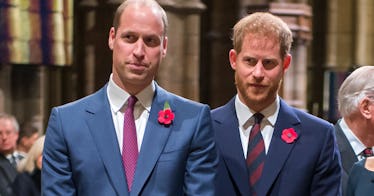 Getty
People love drama, and when it plays out for the world, as it is for the Royal family, it's hard not to pay attention. Whether you love them, hate them, or have no feelings toward them, the Sussexes and Cambridges, have had a rocky year. With Prince Harry and Meghan Markle announcing they're leaving their post as Senior Members of the Royal family, the relationship between brothers, Harry and William, has been challenging, and it doesn't sound like that will get better.
According to PEOPLE, the relationship between William and Harry has been strained for a few years – specifically when Meghan Markle entered the scene. William had cautioned his younger brother against moving too fast with Meghan, according to PEOPLE. Now that he's leaving his job and moving to another country, these siblings don't sound like they're any closer. And quite the opposite, it seems.
A source told the publication that the brother's relationship is "forever changed," adding "they won't get back to the way they were. Harry is looking straight ahead at his future with his family." With Harry and Meghan moving with their young son, Archie, from the UK to Canada, distance isn't likely going to help the riffs in their relationship either.
Rumors of the two brothers not getting along circulated the same time the couple announced their decision to step down as Working members of the Royal family. Back in October, Harry addressed his relationship with William during an ITV interview, confirming their relationship had hit a rough patch.
"Part of this role and part of this job and this family, being under the pressure that it's under, stuff happens, but we're brothers," Harry stated at the time. "We'll always be brothers, and we're certainly on different paths at the moment, but I'll always be there for him, and he'll always be there for me. We don't see each other as much as we used to because we're so busy, but I love him dearly, and the majority of the stuff is created out of nothing, but you know, as brothers you have good days, you have bad days."
It sounds like this royal transition has also hit Kate Middleton, William's wife, hard, too. Vanity Fair reports a royal source says she's "taken it all badly." Discussing the awkward moment at the Sussexes last Royal engagement, the source says, "Possibly she was tired, but she didn't look overjoyed. To be honest, I think Kate has taken it all badly." Adding, "She Harry and William were once such a happy trio, she thinks what has happened is all very sad."
The Duke and Duchess of Sussex's last official day as Working members of the Royal family is March 31st.
This article was originally published on