Prince Harry and Meghan Markle Are Leaving the Royal Family. Here's What It Means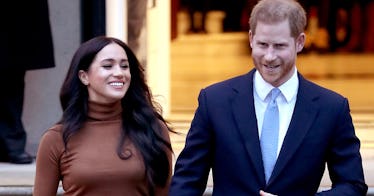 GETTY
Huge news just broke if you're a fan of the British Monarchy – or, more specifically, keep up to date with what Meghan Markle and Prince Harry are up to. They've been in the media a lot since their relationship was first made public in 2016 and they've had all eyes on them since. Between their marriage, the family drama, the baby, and the latest news that they're stepping back from Royal duties, people all over the world are fascinated.
Earlier today, the Duke and Duchess of Sussex announced on their official Instagram page that they're taking a "step back" from senior members of the Royal Family. "After many months of reflection and internal discussions, we have chosen to make a transition this year in starting to carve out a progressive new role within this institution," the post reads. Continuing, "We intend to step back as 'senior' members of the Royal Family and work to become financially independent while continuing to fully support Her Majesty The Queen."
Cool, cool, but what exactly does that mean? Let's take a closer look.
The British Monarchy is so deeply rooted in tradition and titles, so unless you've been obsessed for a long time, it can be confusing to understand what all these titles mean. And specifically, what it means when the Sussexes say they're no longer going to be senior members of the Royal Family. We seem to think of them as just that – a family – but it's more of a business thing too in the Monarchy. In more straightforward terms, the Royal Family is very similar to how a family business operates – with the members of the family taking on roles in the business.
This is true for the Royal family – senior members being those who hold official titles (like Duke and Duchess of Sussex, or the Duke and Duchess of Cambridge). They're members of the family, but also held senior roles in the business side of things too. Their salary is paid for by the British taxpayers, so when the Sussex's said in their statement that they're going to " work to become financially independent," what they're saying is because they are leaving their official job as senior members of the Royal Family (the business side), they won't receive this money from the taxes any further but will continue to " support Her Majesty The Queen," as family does.
Basically, what they've said in their announcement today is they're leaving the family business to start their own focus on charities. They carefully worded their announcement to make it clear they still love their family, will respect the Royal traditions, and they have the OK of their grandma, Her Majesty The Queen
If you've followed the timeline of the relationship between Harry and Meghan, this news that they're leaving their official job title with the Royal Family isn't a surprise. They've been surrounded by so much negativity in the press, especially in the UK, and speculation has been swirling for some time that these two may go another direction. Because Prince Harry isn't in a direct line to the throne (since Prince Charles is next, followed by Prince William, and then his 3 children), he has more flexibility without disrupting the Royal traditions or Monarchy too much.
It sounds like it's a good move for the two of them and it likely wasn't an easy decision to come to with so many eyes on what they do. They are a powerhouse couple who are committed to do some great work in the world and this is just the way they want to move forward with their family. Can't wait to see how they grow!
This article was originally published on