How to Listen to Obama And Bruce Springsteen's New Podcast
The duo talk fatherhood, politics, and their unlikely friendship in the first two episodes that just dropped.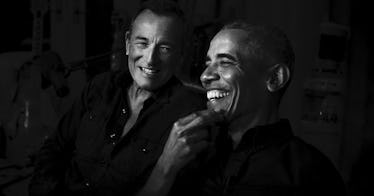 Spotify
Former President Barack Obama and Bruce Springsteen are, apparently, extremely good friends. And for those who are fans of the 44th president and of The Boss himself, their surprise podcast drop that just happened has probably made a lot of people happy.
The pair just announced the launch of their new podcast, "Renegades: Born in the USA." Hosted by Spotify, the new show highlights their unlikely friendship, and so far, it appears that nothing is off-topic. From the political climate in the United States, fatherhood, and how the two teamed up to become great friends, the two have meaningful conversations about what matters most right now.
They dropped the first two episodes of the podcast alongside the announcement, and an intro video shows just how deep listeners can expect Obama and Bruce to get.
"My father was silent most of the time," Bruce shares in the video to Obama. "I grew up thinking my father was, like, ashamed of his family. That was my entire picture of masculinity. Did you have to deal with that?"
Obama responded, "My father leaves when I'm two. I don't meet him 'til I'm 10 years old when he comes to visit for a month. I have no way to connect to the guy. He's a stranger who lives in our house," Obama said.
That conversation is just a taste of what the podcast will likely be about. In the video, Obama says: "On the surface, Bruce and I don't have a lot in common. He's a white guy, from a small town in New Jersey. I'm a Black guy of mixed race born in Hawaii. He's a rock 'n roll icon… I'm… not as cool." Yeah, the former President might be underselling himself a little bit, but the podcast description does have us totally sold.
It looks like the "Renegades" podcast will not shy away from dissecting the issues that matter. Obama and Springsteen "formed a deep friendship since they first met on the campaign trail in 2008," Spotify wrote in its announcement of the new podcast.
"It is a personal, in-depth discussion between two friends exploring their pasts, their beliefs, and the country that they love — as it was, as it is, and as it ought to be going forward," Spotify said in a statement. We look forward to hearing two legends — even if one may be cooler than the other — dissect politics, their upbringings, and the differences and similarities they share.
The first two episodes of "Renegades," the Bruce Springsteen / Barack Obama podcast, are available to stream on Spotify.