President Biden Has A New Paid Leave Plan — What to Know
The plan, which relies on tax credits, was unveiled as part of his new COVID-19 Preparedness Plan.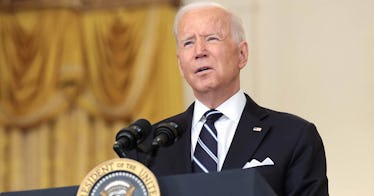 GETTY
President Joe Biden made guaranteed paid leave a centerpiece of his campaign and a policy priority in his administration. Biden included a provision in his landmark Build Back Better Act legislation to provide U.S. workers with guaranteed paid family and medical leave. As one of only a handful of countries in the world with no guaranteed paid leave—the others are Papua New Guinea, Micronesia, Suriname, Tonga, the Marshall Islands, Nauru, and Palau—the U.S. lags far behind other industrialized nations, many of whom guarantee as much as a year of paid leave to new parents. Many of those countries also offer some form of paid caregiving leave, allowing workers to take paid time off to care for ailing family members.
As part of the BBB act, parents and caregivers would have received 20 working days of paid leave to care for themselves or a family member. The BBB stalled in the Senate late last year as West Virginia Democrat Joe Manchin, the only Democratic member of the Senate not to approve the bill, balked at provisions to extend the Child Tax Credit.
After last week's State of the Union Address, though, it sounds like President Biden isn't ready to give up the idea of providing paid leave to workers. Biden briefly mentioned paid leave during his first SOTU on Tuesday. Wednesday, his administration rolled out a new COVID-19 Preparedness Plan, which includes paid leave provisions for those needing to care for themselves or a family member infected with COVID-19.
During the early days of the COVID-19 pandemic in 2020, provisions allowing paid sick leave for all workers were initiated but expired later that same year. They weren't renewed despite evidence that paid sick and family leave helped slow the spread of the virus.
The details around Biden's new plan are sparse as it's still a work in progress, but language included in the release indicates that the administration intends to re-establish tax credits that made it possible for businesses to provide paid time off to employees. "The Administration will work with Congress to reinstate tax credits to help small- and mid-size businesses provide paid sick and family leave to deal with COVID-related absences," reads the announcement.
"This is an important acknowledgment of paid leave's importance for public health and economic security in a pandemic or endemic—and why we need a permanent policy so workers and businesses are always prepared," said Dawn Huckelbridge, director of Paid Leave for All, paid family leave advocacy group, in a statement.
While restricting paid leave only to COVID-19 related illnesses isn't ideal, especially when many new parents must rely on unpaid leave through the Family Medical Leave Act after welcoming a new baby, it's a step in the right direction and a change the majority of U.S. workers want. However, according to data compiled by the Center on Budget and Policy Priorities, as many as 44% of U.S. workers don't have access to FLMA because they work part-time, haven't been with their employer for at least a year, or work for smaller companies that are excluded from the program.
Adopting a more robust and wide-ranging paid medical and family leave policy would ensure that the needs of marginalized communities are met and that families get the time they need to care for one another after a birth or an illness, resulting in happier, healthier workers, who don't have to choose between providing care for their families and meeting their financial obligations.