Pregnant People with COVID Were 22 Times More Likely to Die, Study Says
A study reveals that COVID-19 is extremely dangerous in pregnant people.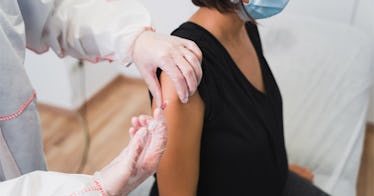 As news comes out that there's no evidence so far that the Pfizer and Moderna vaccines are unsafe in pregnant people, and as the CDC has officially changed their recommendations to suggest pregnant people get vaccinated, another study confirms why it's all the more important that pregnant people get it in consultation with and after the approval of their doctor.
According to an international study led by UW Medicine and doctors at the University of Oxford, people who got COVID-19 while pregnant were 22 times more likely to die than those who were pregnant and did not get COVID-19. But that's not all: their babies were more likely to be born prematurely, and pregnant people were more likely to experience preeclampsia, intubation, and ICU admission, with these risks compounded if the pregnant person was obese, had hypertension or diabetes. If the babies were born to infected moms, 11% of them tested positive for COVID-19. The study was done on 2,130 women in 18 countries who were diagnosed with COVID-19 and suggests that getting COVID-19 while pregnant has a consistent association with worse health outcomes, including substantial increases in maternal morbidity, mortality, and neonatal complications. "The No. 1 take-away from the research is that pregnant women are no more likely to get COVID-19, but if they get it, they are more likely to become very ill and more likely to require ICU care, ventilation, or experience preterm birth and preeclampsia," Dr. Michael Gravett, a lead author of the study told The Seattle Times. The news highlights the need for stringent COVID-19 prevention measures to be followed at every point in pregnancy — and, as studies come in that are showing that the Pfizer and Moderna vaccines are safe in pregnant people, the necessity of getting vaccinated against COVID-19 yourself if you are pregnant.Early analysis of a study of 35,000 pregnant people who received one of the doses shortly before, or during, pregnancy, revealed that the vaccines pose no serious risks to the individual. Now, CDC Director Rochelle Walensky has stated that pregnant people should get the vaccine. The study, though expansive, has limitations (pregnant people self-reported their symptoms and pregnancy outcomes to researchers) and needs more inquiry. For example, there are no data so far on pregnancy outcomes for people who got vaccinated in their first trimester. But in the course of the study, pregnant people reported the same or similar side effects to nonpregnant people, and there were no acute events in pregnant people reported so far, suggesting it's safe for women.So, if you're pregnant and at risk for COVID-19, talk to your doctor about getting jabbed.
This article was originally published on