3.4 Million More Kids Are Now Living In Poverty Since the End of 2021
The expert warnings were ignored, and what they said would happen, did.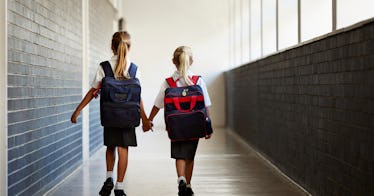 Klaus Vedfelt / Getty Images
New numbers released in mid-March show the child poverty rate has remained "substantially elevated" in February compared to the numbers in December 2021 – when the child tax credit program ended.
New data from the Center on Poverty and Social Policy at Columbia University shows that 3.4 million more kids lived in poverty in February 2022, compared to December 2021, according to Business Insider.
"That amounts to a 38 percent increase from the level it stood at the end of last year, or a 4.6 percentage-point increase," the publication states. Though last month, the child poverty rate was 16.7 percent, compared to 17 percent in January. "It represents a modest dip from one month to the next after child poverty spiked due to the end of the temporary advance payment program," Business Insider explained. "In December 2021, it had been at 12.1 percent."
As part of the American Rescue Plan, the Child Tax Credit ensured monthly payments of $250 to $300 per child, depending on their age, for low- and middle-class families. The payments petered out for wealthier families but still went out to families making $150,000 jointly. These payments went out July 2021 to December 2021 to help parents navigate the pandemic, and the second half of the cash payment should go out to families when they get their tax returns from the IRS this year.
To call the Child Tax Credit a success would be an understatement. The Child Tax Credit did an incredible job at lifting families out of poverty. With the monthly payments, parents were using the added money each month to pay for necessities like food, housing, utilities, and childcare, to pay down debt, or to simply stabilize their month-to-month finances.
The Center on Budget and Policy Priorities noted that these monthly payments lifted 4.1 million children out of poverty so when it became clear the Child Tax Credit would not be available in 2022, experts warned it would have a terrible impact on those 4.1 million children – and that's what happened.
The landmark legislation from the Biden administration, the Build Back Better Act – which included the American Rescue Plan and Child Tax Credit – looked to continue the payments to parents each month. However, the bill was stymied by one lone Democratic voice – Senator Joe Manchin. And it's been stalled, basically dead in the water, since.