Dad's Hilarious "Post-Game" Parenting Conference Goes Viral On TikTok
Hopefully next game will go better, dad! Hang in there.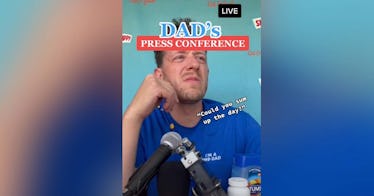 Parenting is one of the toughest gigs out there. Every day, parents wake up and do not know what the world is going to throw their way. Is the kid going to be in a good mood? Will something trigger a screaming fit they can't control? Parents have to wake up with a play or a way out of any situation. It's not too far off what professional sports are like, and that's what makes this dad's "post-game" parenting interview so hilarious.
Evan Kyle Berger is one half of the Dumb Dad podcast, and the duo also has a hilarious TikTok account. They tackle the realities of parenting. Always coming with the real and the funny. Their latest video on the platform is a play on the sports post-game press conference. They do these for hockey, basketball, the UFC – any sport really and Kyle's parenting post-game parody is so real we can't stop laughing.
Sitting at the microphone with bottles of Tums and ibuprofen sitting next to him, he opens up by summing up how the day went for him. Giving a sport like play-by-play, the exhausted dad said that it felt like they all "got behind early" and that it was a challenge to bounce back after the spilled milk incident.
Evan was asked if he ever found his keys (he didn't) and discussed his decision to give a snack before dinner (while pulling Legos out of his hair). The exhausted dad – who has random stickers and food stuck on his shirt – said he tried to "calm things down" after an attitude change in the kids by giving the kids a time out.
Adding the caption "Hate doing these, but it's part of the deal," when sharing to TikTok, Evan had a flawless execution of the dad who's done with the day. The exact same lack of enthusiasm of a sports coach or player who just lost an important game.
Hopefully next game will go better, dad! Hang in there.