Porn Data Reveals Which Pixar Character People Search for the Most
PornHub has released its 2018 data, and one fictional character stands out.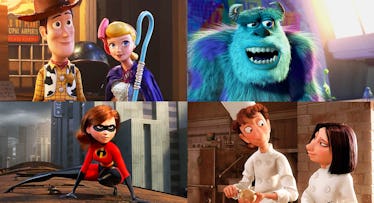 Pixar
The most popular Disney/Pixar character in the world of online pornography is now a fact you can know. The streaming porn giant, PornHub, has released its data for 2018. And if you know someone is a huge fan of Pixar, there's a statistical chance that person has possibly looked for porn about Elastigirl from the Incredibles franchise. PornHub says that in terms of porn searches related to TV or movie characters, Elastigirl was the second most-searched character while Harley Quinn from the DC comics universe continues to be number one.
Here's the statement straight from PornHub's 2018 Insights.
"DC character Harley Quinn once again topped our list of the most searched Movie and TV characters with over 10 million searches in 2018. Her total was 8.3 million in 2017, but over 10 million in 2016 after the Suicide Squad movie was released. This year's second most searched character at 7.6 million was Elastigirl from The Incredibles, which also managed 7.2 million searches."
This fact should come as no surprise to anyone who read Anthony Lane's review of Incredibles 2 in the New Yorker, in which the film critic wrote "Mommy just leaned over to Daddy and whispered, 'Is it just me, or does Mrs. Incredible kind of look like Anastasia in 'Fifty Shades of Grey?' You know, the girl in the Red Room, with the whips and all?'"
And if that wasn't enough, there was also a clever (and clean) YouTube video which simply re-edited actual scenes from the first Incredibles to make it seem like the plot of Fifty Shades of Grey. The point is, there are people out there who are very hot for this cartoon, and there and PornHub's data proves there are more of them than you think.