Listeria Outbreak! Two Million Pounds of Pork Just Got Recalled
Many brands are included in the recall, so check your fridge and freezer.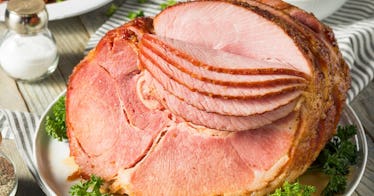 A food recall has prompted the Food Safety and Inspection Service to issue a giant recall in the United States, asking people to check the pork products they have at home. In one of the "most massive recalls in history," the recall includes more than two million pounds of pork. Here's what you need to know.
What Pork Needs to Be Thrown Out?
The pork involved in the recall was distributed and subsequently recalled by Alexander & Hornung, a unit of Perdue Premium Meat Company based in Michigan. The products have been placed on the shelves of grocery stores nationwide including Whole Foods and Big Y, the recall announcement reads.
Possible exposure to Listeria monocytogenes is what prompted the expanded recall from 234,391 pounds to 2.32 million pounds of meat, including fully cooked ham and pepperoni products.
How to Find Out If the Pork You Have Is Bad?
The recall is an expansion on one that was placed earlier in December and it impacts a wide range of products. Sell-by and best-by dates span from December 10, 2021, through May 24, 2022. Yes, this is a wide-ranging recall and it's imperative that you check all of your pork products to be sure you're not affected.
The pork products included in the recall have an establishment number "EST. M10125" inside the USDA inspection label.
Several brands are involved in the recall, including: Alexander & Hornung, Amish Country Fresh Brand, Amish Valley, Big Y, Butcher Boy, Five Star, Food Club, Garrett Valley Farms, Lancaster Brand, Niman Ranch, Open Nature, and Wellshire.
With so many products included in the recall, if you have any pork in the fridge or freezer, including ham and pepperoni, you need to check if it's a part of the recall.
Listeria Symptoms and Seriousness, Explained
The Food and Drug Administration says that there are a range of symptoms for people infected with Listeria monocytogenes. Depending on the severity, symptoms can include fever, nausea, vomiting, muscles aches, and diarrhea. More severe forms include stiff neck, loss of balance, headache, and convulsions.
Some people are at an increased risk of serious illness from Listeria, including pregnant people, their fetuses, newborns, elderly, and immune-compromised. You should get in touch with your doctor if you are showing symptoms.