Poll Shows Kids' Anxieties and Excitement About Returning to School
Kids are excited — and nervous — to go back to school this year.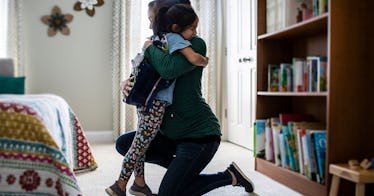 It's officially back-to-school season, which is usually a relief to parents because they finally get some much-needed space from their adorable little energizer bunnies.
But this year, it's a bit more complicated, as the ongoing pandemic and the rise of the delta variant have parents harvesting a variety of concerns regarding the return to school in person.
Now, a poll conducted by the C.S. Mott Children's Hospital National Poll on Children's Health reveals the immense stress and anxiety that parents, and their kids, are feeling as classrooms reopen to students.
According to the poll, parents say their kids have primary areas of concern when it comes to school being in-person again: the possible return of virtual learning (26 percent), being around large groups of kids, AKA their peers (24 percent), being behind on academics (22 percent), and getting along with friends (22 percent).
For parents of kids in middle and high school, almost two-thirds say their kid would feel safer if most students and teachers were vaccinated against COVID-19.
On the one hand, kids are obviously anxious about being around a lot of other students, teachers, and faculty when we are still very much in a pandemic (especially given the fact that initial numbers indicate the delta variant is having a greater effect on kids than the original coronavirus). On the other hand, they also seem to be very excited, with 41% of parents saying their kids are more excited about the 2021-2022 school year. This is no surprise — the last school year was tough on kids.
Over half of parents polled said that the 2020-2021 school year was worse for their kids in at least one of four factors: academic performance, connections with teachers, relationships with other students, and general attitude toward school. This makes sense, for obvious reasons — many kids lost their largest social-emotional outlet and were stuck at home for months on end.
At this point, it's impossible to pretend to have any actual idea what the return to school will look like on a large scale, despite some optimism and excitement. Still, parents are understandably worried about their kids' safety, wellbeing, and education, and kids are worried about the same.