Sony Confirms All the PlayStation 5s Have Been Sold
There's still a small glimmer of hope, though.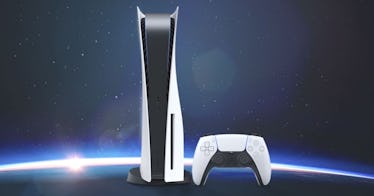 Credit: Sony / PlayStation
Everyone knew that when the PlayStation 5 (PS5) was officially in production, the demand for the gaming console was going to be huge. What people—and Sony, the company that produces the PS5s—didn't know at the time was a pandemic was going to hit, throwing a wrench in the launch of the console. With the global health crisis came a slowdown in production and, at the same time, an increase in demand for at-home entertainment. As pre-orders came and went, and launch day, too, Sony has now confirmed that all the PS5s that have been produced have already been sold.
According to HYPEBEAST, Sony Interactive Entertainment CEO Jim Ryan recently spoke with Russian news agency TASS and confirmed that if you don't already have your hands on a PS5, there's a chance you may not get one this year.
"Everything is sold," Ryan said when he was discussing current sale figures. "Absolutely everything is sold… I've spent much of the last year trying to be sure that we can generate enough demand for the product. And now, in terms of my executive bandwidth, I'm spending a lot more time on trying to increase supply to meet that demand."
Pre-orders for the console were first announced in Sept. 2020, and they went fast. The consoles available for pre-order were completely gone almost instantly. Seeing how quickly the pre-orders sold, and many still wanting the console, they marked their calendars for Nov. 12, 2020, when the PlayStation 5 was set to officially launch—and just kind of hoped for the best.
This article was originally published on