Plane and Public Transit Mask Mandate Struck Down, But Could Come Back
Major airlines have stopped requiring masks on flights.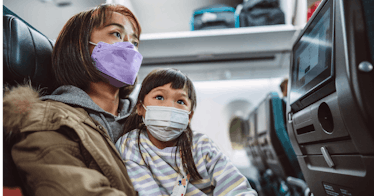 Images By Tang Ming Tung/Getty
On Monday, a federal judge in Florida struck down the Biden administration's public transportation mask mandate as unlawful. Following this decision, many major airlines, rideshare apps, and city public transit systems have dropped their mask mandates for both passengers and crew.
Could the mask mandate be reinstated? Which forms of public transit will still require masks? This is everything you need to know.
Federal judge struck down plane and public transit mask mandate
On Monday, U.S. District Judge Kathryn Kimball Mizelle ruled that the Centers for Disease Control and Prevention (CDC) had exceeded its authority in implementing the public transit mask mandate and failed to allow the period of public comment required before new rules are implemented.
Mizelle was appointed by former President Donald Trump. Prior to her confirmation, the American Bar Association had judged her as "not qualified." Now, the 35-year-old is being praised by some as an American hero for her unilateral decision to strike down the public health mandate — despite rising COVID numbers and with children under 5 still unable to get vaccinated.
The Biden administration will try to reinstate the mandate
"The agencies are reviewing the decision and assessing potential next steps," a Biden administration official said Monday night. "In the meantime, today's court decision means CDC's public transportation masking order is not in effect at this time. Therefore, TSA will not enforce its Security Directives and Emergency Amendment requiring mask use on public transportation and transportation hubs at this time."
The end of the public transit mask mandate comes on the heels of the CDC's decision to extend the public transit mask mandate through May 3rd. "The CDC recommended continuing the order for additional time — two weeks — to be able to assess the latest science in keeping with its responsibility to protect the American people," White House Press Secretary Jen Psaki said in a press briefing on Monday. "So, this is obviously a disappointing decision. The CDC continues recommending wearing a mask in public transit."
Psaki added, "As you know, this just came out this afternoon. So, right now, the Department of Homeland Security, who would be implementing, and the CDC are reviewing the decision. And, of course, the Department of Justice would make any determinations about litigation."
This is where public transit mask requirements have been dropped
Although the question of appeal is still up in the air, many airlines announced Monday evening that masks would now be optional — some even in mid-flight. Delta Air Lines, American Airlines, United Airlines, Southwest Airlines, Alaska Airlines, and JetBlue all dropped their mask requirements. Masks will no longer be required in U.S. airports.
Amtrak will no longer require masks during transit or while in train stations. Uber and Lyft are dropping their mask requirements, and Uber is now allowing passengers to sit in the front passenger seat, which it hasn't allowed since the start of the pandemic.
Some states and major cities have also announced that they will no longer require masks on local public transit, including New York, Washington D.C., and Chicago.
The mask mandate drop puts public health at risk, experts say
Many people rely on public transit in their daily lives, and avoiding public transportation isn't an option for them. The dropping of mask mandates on public transit leaves people who rely on public transit and who are at high risk for severe COVID, such as those who are immunocompromised, at serious risk.
The reversal of the mandate has also left parents and caregivers questioning whether traveling with their young, unvaccinated children is safe, especially as COVID numbers are increasing across the country. Many families have already scheduled spring break and summer vacations with the risk calculation that masks would be required on planes, rideshares, and public transit. As that is no longer the case, many families — especially those with kids under 5, who are not yet eligible for the COVID vaccine — will have to rethink their vacation plans.