Pink Brilliantly Explains She Won't Raise "Punks," But Won't Make Kids "Conform," Either
The singer opens up about raising good humans without dimming their lights.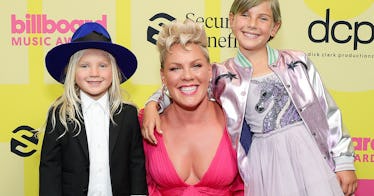 Rich Fury / Staff / Getty Images
There is no rule book when it comes to parenting and a lot of us rely on our instincts and limited experience from when we were being parented to guide our way. Sometimes our decisions don't fall exactly along the path of others. For Pink, that means allowing her kids to be fully who they are, even if that means they're doing things their own way.
Speaking to People, Pink shared that when it comes to parenting her kids, 5-year-old Jameson, and 10-year-old Willow with husband Carey Hart, they encourage their kids to be their unique selves. When speaking about checking in with her kids about mental health, Pink shared that although her kids are young, communication is key.
"I'm not yet there into the teenage place, but I know what it was like for me as a teenager and not being able to connect at all with my parents," she said. "So, I communicate with them. We have hard conversations."
And Pink is committed to standing up for her kids in areas where she felt she couldn't when she was growing up. "I have conversations with their teachers at the beginning of every year too," she explained, "and make it clear: I had a really hard time in school, and most of my teachers wanted to dim my light."
She's not giving her kids' teachers that opportunity. "Now, I'm not raising punks. They will have manners; they will be purpose-driven and good humans," Pink said. "But the whole conform thing? That's not our family, so please respect that."
She continued, "If my boy wants to wear pink and carry a purse or a rad fanny pack, go for it. If my daughter wants to get every pattern that she has in her closet, and in her head, she thinks it looks great together, I don't question that."
As parents, the best thing we can do is be fiercely loyal to our kids and it sounds like no one is going to get in the way of Pink's children making their own mark in this world.
This article was originally published on