Dads: Do Not Attempt the Van Dyke Beard. You Are Not Pierce Brosnan
Most dads need to stay far away from this style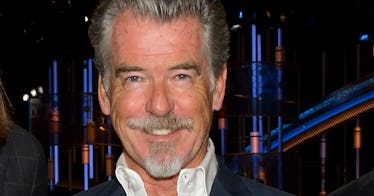 GETTY
Facial hair is awesome for dudes, and its comeback is welcome for so many people who really love the look (or just hate shaving). Beards have had quite the moment in the spotlight for the past few years. We've welcomed the return of the Viking-style beard, the groomed beard, and nearly any guy looks good with one. But, dads – please leave this Van Dyke beard alone because we're pretty sure only Pierce Brosnan can pull this one off.
Pierce Brosnan wowed the Golden Globes red carpet when he appeared with a new beard style no one was prepared for. They report that last week, Brosnan was walking around with a regular person beard, but stepped up his style for the Hollywood event with what Esquire is calling a Van Dyke beard.
"It's called a Van Dyke, and it's not named after Dick. Its namesake, Dutch painter Anthony van Dyck has been dead since 1641," and to be honest, maybe the beard should have left the world when he did. It's an odd shape we don't see often with a straight-across moustache and larger than a soul patch beard part.
It's quirky, and Phillips defines this style as "a really creative style that leaves your cheeks smooth and includes that definitive, all-important gap between your mustache and beard." They give you a step-by-step guide on how to achieve the look, but maybe don't?
Brosnan can get away with it, but as a warning, you probably can't. He's famous–he's been Bond, which entitles him to try out any new fashion or look moment and have it pass as acceptable. But not everyone is afforded that luxury. Think about the precision you need, so it doesn't lose its shape. The extra skincare you'll have to do. And you can't take a day off grooming it or you'll be a laughingstock.
While it's fun to play with the shape and size of your beloved beard, this style isn't a trend, hopefully, won't become one, and we're all better off if everyone stays away.
This article was originally published on